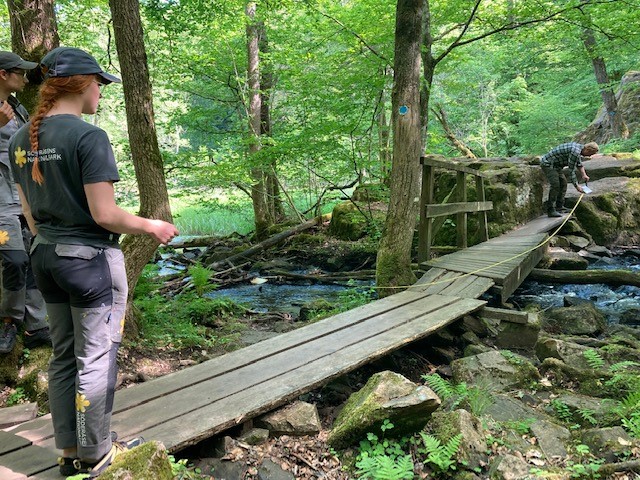 Foto:
Internship or thesis
Would you like to do an internship or write your thesis at Söderåsen national park. Below is some general information and how you apply.
About the activity
Internship

We will unfortunately not be able to accept any applications for internship during 2024.
Applications are acceptet all year.
Reccomended duration of internship is between 1 to 6 months.
Salary: We cannot pay any salary or other types of reimbursement but offer free accommodation during your internship. Read more under accommodation.
Work tasks: Your main tasks will be to assist the regular staff of the national park and/or visitor centre in their daily work. The job is very varied, and often takes place outside, independent of weather.
Examples of work tasks are maintenance, repair and cleaning of our outdoor facilities, but also conservation actions and ecological restoration. During your internship you will also be allocated a project of your own, based on your knowledges and interests, to be handled independently with support from your supervisor here.
Driver's license: Driver's license for private car is necessary
Language: It is necessary that you speak and understand Swedish or English
Accommodation: You will live in our cottage called Liden, an old croft in the woods in the national park, alone or together with another intern. The house has several beds, bathroom and kitchen. In the summer, an outdoor shower can be installed, there is also a regular shower and laundry room in the management building where you will work. Kitchen supplies, duvets and pillows are in the house, whereas you will have to provide bed linen, towels, food and other consumables yourself. There is no tv, but there is internet in the house.
You are welcome to have guests staying over, but if you share the house with another intern they need to be consulted in advance.
Transportation: Transports within the management area usually takes place with a car, and it is hence important for you to have a driver's license to be able to work independently.
In order for you to get around on your spare time, we recommend you bring your own car, but it is not a demand. Grocery stores are available within 5 km, other service such as pharmacies are further away but can be reached by bus.
Clothes: We provide work clothes and protective shoes, both for your safety and so that it is apparent that you work in the national park.
Working hours: You will work 8.00-16.00, with a lunch break around noon. You are not expected to work evenings or weekends.
Other: In order to be accepted as an intern you need to be enrolled at a higher education within an adequate subject. Insurance is usually provided by your education, if not we can provide insurance. Please contact us if you have any questions!


Thesis
We are happy to receive you if you would like to write your university thesis or corresponding about the national park or any of our nature reserves. We have some ideas of topics but you are also welcome to make own suggestions – do however consider that studies need to be in line with rules and regulations in the national park and other protected areas. We can provide thesis supervision to some extent.
Also as a student, you are welcome to stay in our cottage "Liden" (see accommodation above). Do consider that you can also combine your thesis with internship if you want to!
Welcome with your application
If you like your internship in the spring - apply before 1 september
If you like your internship in the autumn - apply before 1 march.
Send your application and CV to Tove Hultberg: