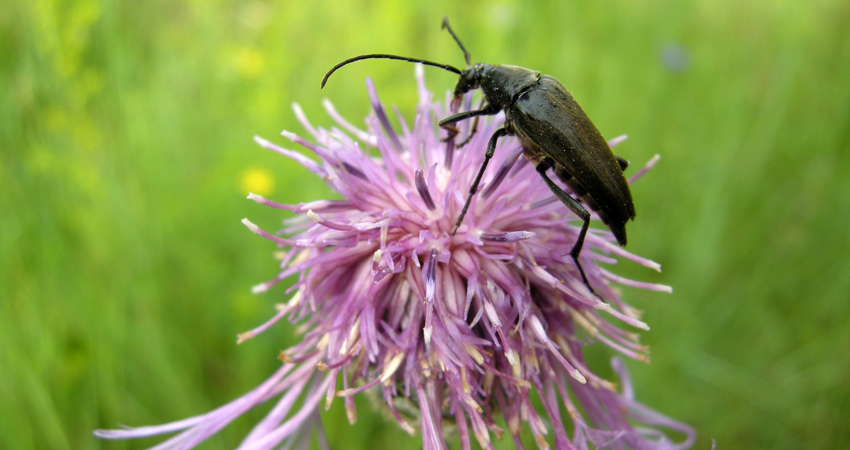 Foto: Thomas Johansson
Wildlife
In Norra Kvill there are lots of tall stumps and fallen dead trees of various dimensions and degrees of decomposition.
This is a gold mine for flora and fauna that live on wood and have a hard time surviving in very tidy production forests. One of the insects living in Norra Kvill's decaying spruce deadwood is the rare lucanid beetle. It is a typical "primeval forest species" that likes old, shady, damp forests that have not burned for a long time.
In the rocky ground's light, open pine environments, species with other requirements live. This is where insects such as the Etorofus pubescens and Nothorhina muricata flourish. Older traces of the longhorn beetle have been found in deadwood in and right next to the park.
Many different species of birds
Mammals are not common in Norra Kvill, but you can see tracks of martens, squirrels, badgers, hares, fox, roe deer, elk and in more recent years also wild boars. Otherwise it is bird fauna that predominate in the forest. All the usual small bird species in the forest are represented, including the redstart, song thrush, willow tit, larger and smaller crossbill and crested tit.
Woodpeckers such as the black woodpecker and great spotted woodpecker are often seen and heard, and after the controlled burning by Sveaskog in the adjoining forest in 2010, the unusual three-toed woodpecker was spotted in Norra Kvill. There is also a chance of seeing the capercaillie, hazelhen, pygmy owl and Tengmalm's owl here.