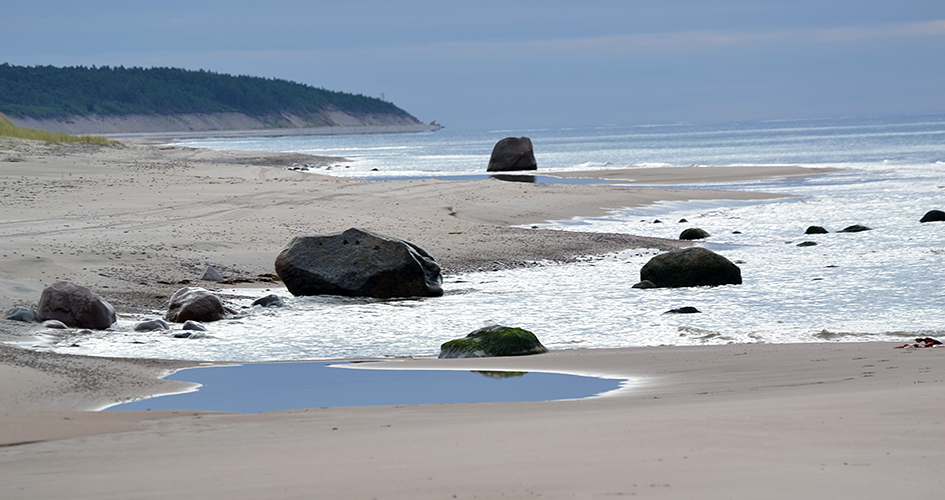 Foto: Länsstyrelsen Gotland
Geology
Gotska Sandön is composed of an immense sand and gravel ridge that is part of a large displacement from the latest Ice Age.
During the ice age, the entire Baltic Sea basin was covered by ice several kilometres in depth. It took many thousands of years before the ice completely melted. Twelve thousand years ago, when the edge of the ice was in the area to the north and east of Gotland, a mighty spine of loose sediment, consisting of moraine, sand and gravel, formed in front of the edge of the ice sheet. This spine stretches from Kopparstenarna in the north, through Gotska Sandön, Salvorev, Fårö and down to Klints bank, to the east of Gotland. At Gotska Sandön, the solid bedrock is 70 metres below.
The weight of the ice compressed the earth's crust and when the ice melted, the crust sprung back and the land rose. This land is still rising today. Approximately 6 000 years ago, the highest sections of Gotska Sandön rose above the surface of the water. Since then, waves, winds and currents have affected the appearance of the island. Finer clay particles were flushed out to sea and what remained was primarily sand, which formed sand banks along the coastline. The smaller sand particles were driven by the wind, forming wandering sand dunes that have shaped the island; a process that is still taking place.
The island is steadily diminishing in the south-west, and Bredsandsudde in the north-west changes appearance from day to day. Here and there one can find large erratic boulders. The more well-known ones are "Elefanten", "Vassestenen" and "Torparestugan".