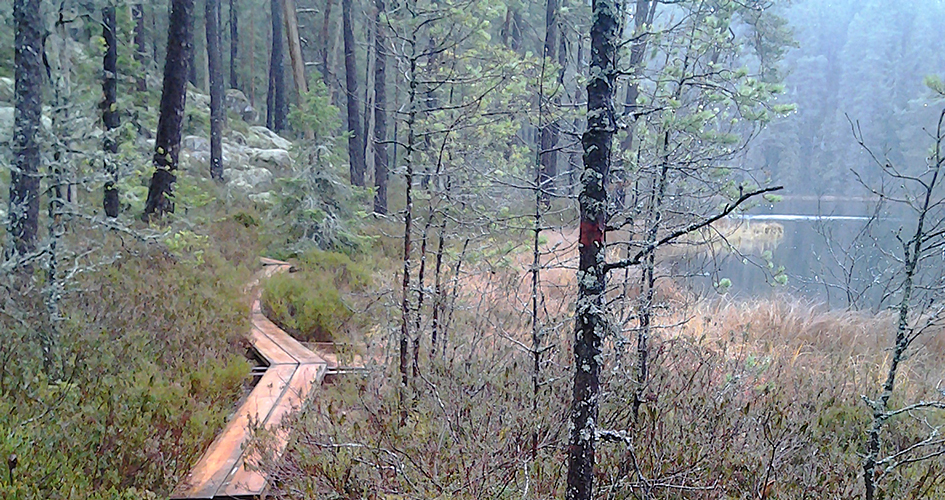 Foto: Anna Lindberg
Choose between two hiking trails
The entrance is only a short distance from the car park and Nackön rest area. This is the starting point for both the Stora Idgölen loop and the Lilla Idgölen loop.
About the activity
Stora Idgölen loop
The loop (marked in red) is 2.5 km long and goes through variegated surroundings in the old part of the park. The first part is steep and sometimes a bit wet, but it passes many excellent places where the characteristic boulder-strewn ground is displayed to best advantage.
The trail then goes around Stora Idgölen, which is also called Trollsjön. In places, there are planks on the trail and you pass countless trees with fire scars that stand on the slope south-east of Stora Idgölen. Some of the trees with burns are more than 300 years old.
Lilla Idgölen loop
The 4-km trail (marked in blue) passes both Stora and Lilla Idgölen and goes up on Idhöjden, 45 m above the surface of Stora Idgölen. The forest around Lilla Idgölen is younger than that in the old part of the park, but it also has magnificent boulder-strewn ground that conjures up fantasies about elves and trolls. From Idhöjden you have a fantastic view of the surrounding countryside.