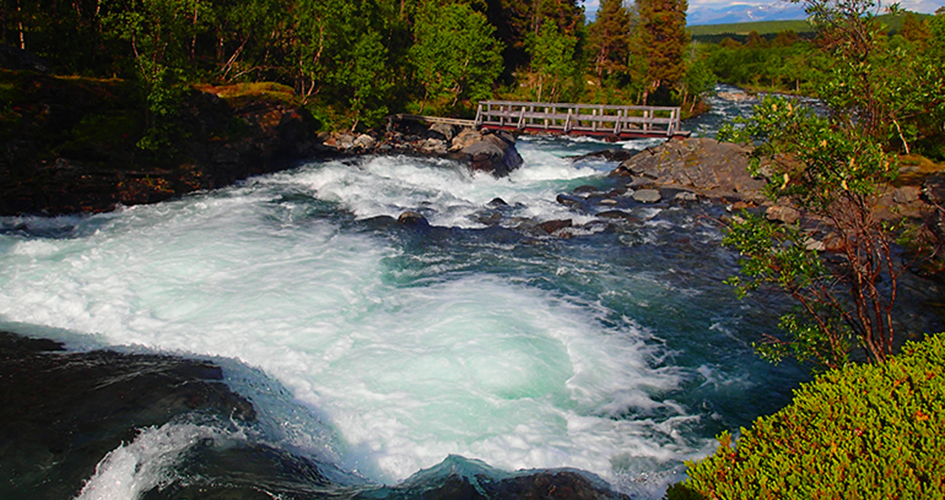 Foto: Sieglinde Kundisch
Full-day and half-day tours
There are both full and half day trips in Abisko National Park, depending on how much time and energy you have.
About the activity
Full-day tours
There are many excellent, longer tour destinations. Examples are the Kårsavagge valley, the Paddus sacrificial site, Nissunjåkka canyon and Abiskojaure lake.
You can get more information on these and other tour destinations inside the Naturum visitor centre and in the book Abisko Tour tips. This book is for sale in naturum Abisko.
Half-day tours
Kårsa waterfalls
Follow the purple marked trail towards the Kårsavagge valley. After 600 m the path divides. Continue on parallel with the Abiskoeatnu river. The path here goes through a park-like birch forest and then on boardwalks across marshland. Eventually stately pine trees reveal themselves in the birchforest, and when you reach Kårsajåkken, there is a sparse primeval pine forest. You will find both capercaillies and squirrels here. From the bridge and upwards, there are many fine small waterfalls.
Ridonjira nature path (only in summer)
This trail is closed during winter due to avalanche risk.
Follow the red markings along Abiskoeatnu to the creek Ridonjira. Here the nature trail branches off and follows the brook up through a nice birch forest. Higher up there is a series of waterfalls. At the tree line, the trail crosses the course of the brook. You come out on flowering heaths and meadows. The abundance of flowers is due to limestone in the soil as well as the good circulation of groundwater.
The path goes under the cableway and then branches off on a steep upward slope to the top station. From the top station a trip down on the cableway is recommended. You can also choose to walk down on the slalom hill, or on the same path as you walked up.
Nissonjåkka's suspension bridge
Follow the orange trail marks of Njakajaure nature trail and Kungsleden (the King's Trail) for four kilometres to the suspension bridge. Along the last kilometre of the trail you can see traces of several of Nissonjåkka's older courses in the terrain. The ground is inundated here during years with strong spring floods. On the other side of the suspension bridge, you find Nisson campsite, with a place for tents, fireplaces and latrines.