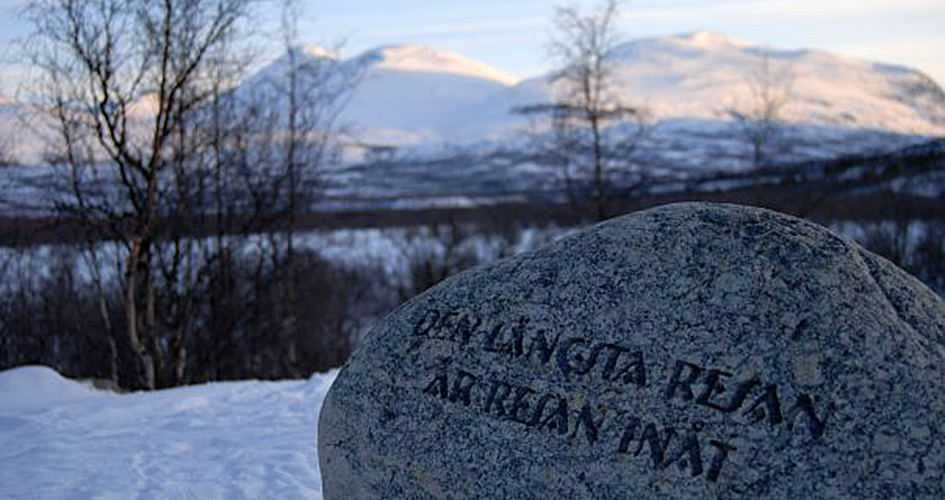 Foto: Abisko nationalpark
History
For thousands of years the area has been home to the Sami people, who followed herds of wild reindeer between woodlands and mountains.
People hunted and fished in the area. Remains of pitfalls used to capture reindeer and moose are still visible today. You can also see traces of the old hearths and sites for Sami huts. Several hundred years ago, the Sami became reindeer herders. The Gabna Sami reindeer herding district is an administrative and economic unit. The members of Gabna still carries on reindeer husbandry here. Nowadays most of the unit's members live in the Rensjön community.
The railway paved the way for visitors
The national park was formed in 1909, making it one of the first in Sweden. Some years earlier a railway was built from the mine in Kiruna to the ice-free harbour in Narvik, from which iron ore could be shipped year-round. During construction, the railway crews known as "rallare" created small communities along the railway as it extended. The "Rallarvägen" hiking trail that was used to transport material is a remnant of that period.
With the advent of the railway, growing numbers of tourists found their way to Abisko and the tourist station. Artists, botanists, alpine hikers and many others have since visited the national park. In recent years aurora borealis tourism has become increasingly popular. Abisko is considered one of the best places on earth from which to view the aurora borealis. That's because the area lies in the rain shadow of the Atlantic's damp air and often has clear weather.
Abisko Scientific Research Station
At the Abisko Scientific Research Station, near the national park, scientists from all over the world study climate changes and conduct other scientific research in an Arctic environment. The scientific results, including long series of weather data, are published on the Internet.