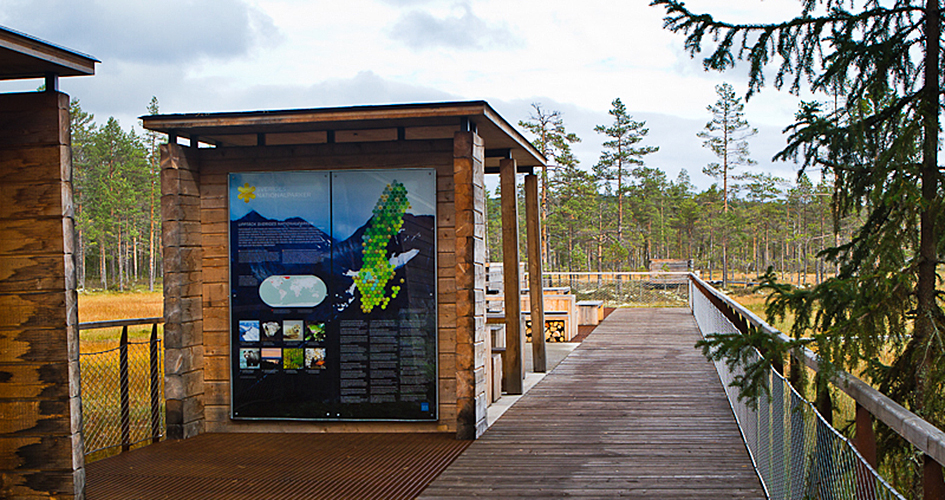 Foto: Tomas Ärlemo
Award-winning entrances
In 2013 the entrance areas in Hamra National Park received the Siena Prize, an architectural distinction, for their originality, simplicity and sustainability. The entrances were designed by White Arkitektur AB.
About the activity
At all entrances you will find parking, WCs and lay-bys with fireplaces and wood as well as information about the park.
Main entrance
The virgin forest loop begins here and goes through the entire old part of the national park, where the forest is oldest. From this entrance you can also hike around a swamp loop, where you will pass through a burned area, among other things. From the Main entrance you can easily make your way to an excellent vantage point via a wide ramp. From that place in the old-growth forest, you have a good view of Svansjön lake.
Swamp entrance
Here you will come to an observation tower that affords a fine view of the swamp landscape. This also is the starting point for the long swamp loop that goes through the realm of black grouse, cranes and reindeer moss. From the Bog entrance you can jump onto the Hamra trail that goes directly through the park.
Svartå river entrance
Take the Svartå river loop through old forest and walk on smoothly polished rocks along a river. The rocks are perfect for a packed lunch break or to look for otters and dippers in eddies of the rapids. From the entrance you can, via the Hamra trail, take the 10-km route directly through the national park to the Main entrance.