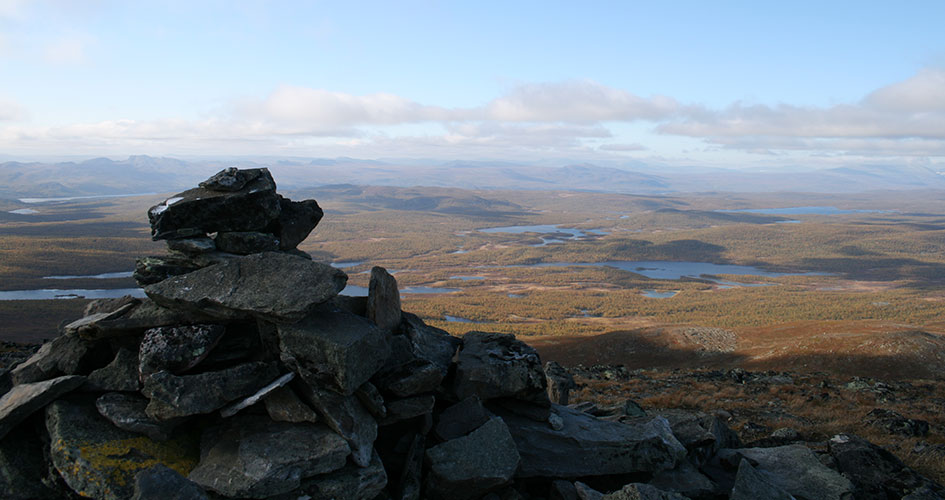 Foto: Länsstyrelsen Norrbotten
Geology
On the road from Arjeplog to Jäckvik or Adolfström, the first half of your trip is over primitive rock that is nearly two billion years old.
After that, you come to the mountain range's youngest bedrock – rock that is only 400 million years old. During the millions of years that have passed since the bedrock formed, it has been worn down to the mountain range we see today.
Mountain bedrock
Pieljekaise's rounded mountains and long valleys are composed entirely of mountain bedrock with meagre, hard types of mountain rock that decomposes slowly. As a result, the vegetation also is meagre. Below the tree line a sparse heath birch forest grows, and above the tree line you can hike across alpine heath with crowberries, mountain bearberries and dwarf birch trees. The more lush meadow birch forest grows where the lower part of the mountain bedrock's schist has decomposed and created fertile soil down in the valleys.
Traces of the Ice Age
Traces of the time when Scandinavia was covered with ice are visible in the national park. About 9,000 years ago, the ice in the mountains melted away. Among the things that remained are the long, rounded U-shaped valleys chiselled out by the ice. Also left behind are many large, easily visible boulders that had once been embedded in the ice.