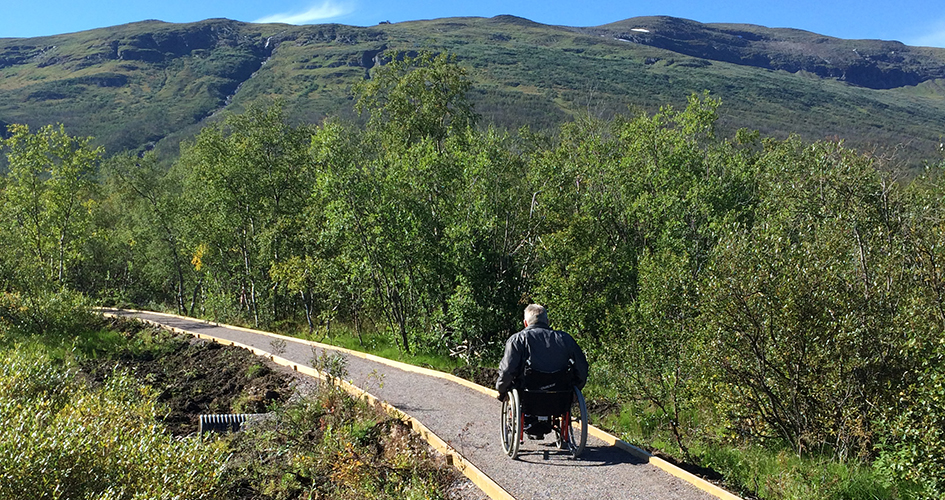 Foto:
Accessibility
The naturum visitor centre and the tourist station are accessible from the car park for people with disabilities, such as those confined to wheelchairs. There are also paths and designated parking spaces that give wheelchair users accessibility to the Abisko Canyon area
Accessible trails and picnic spots
One wheelchair accessible trail leads from the main entrance to the Abisko canyon, where you can also reach the national park symbol and a picnic place near the river. Another wheel chair accessible picnic spot with a fire place is located near the lake Torneträsk. You find more information in the folder pdf below.
The naturum Abisko
In the national park there is a naturum visitor centre with exhibits, travel tips and information about the mountains' nature and culture. WCs and free parking are available here.
There are trails that are accessible with wheelchair. To reach some of them you need to get a ride or take your car with special permission to a parking place closer to the trails. You can also take your car down to the Torneträsk lake where there is a wheelchair accessible fireplace and places to sit around it.
Sleeping accommodations
At the national park's entrance area, there is a tourist station with hotel standards as well as a restaurant, hostel, cabins and campsite with a service building. The village of Abisko (three kilometres from the main entrance) has lodging, a grocery store and a gas station.