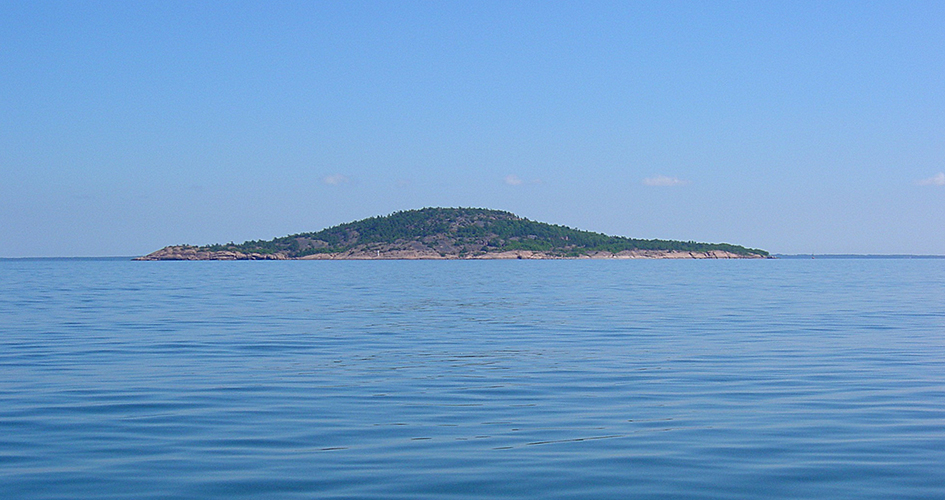 Foto: Therese Säfström
History
In 1741 Carl von Linné visited Blåkulla, another name given to the island even then. But the stay does not seem to have appealed to him, since he describes his visit as follows: "If any place in the world looks horrible, this certainly is one of the most atrocious".
Linné's account of Blå Jungfrun was the most valuable of all of the older literature about the island. He provided the first scientific description of the island, and he is also the first to mention the Trolleborg labyrinth on Blå Jungfrun. But even long before this, there are documented visits to Blå Jungfrun. In 1555 Olaus Magnus stated that "seafarers in the vicinity were not to call the island Blåkulla, because then a tremendous storm immediately would brew".
Granite quarrying threatened the island
Demand for granite increased during the second half of the 19th century. Soon eyes turned towards the beautiful pale-red granite on Blå Jungfrun. In 1904 a Swedish granite company leased the right to quarry on Blå Jungfrun. Jungfru granite went under the name "Virgo" and was exported, primarily to Germany. Soon after the quarrying began, voices were raised urging that the island be saved. After negotiations, the island was purchased. In 1926 King Gustaf V received it as a gift and decreed that it should become a national park. Continued quarrying would have completely destroyed the island, but thanks to Torsten Kreuger's donation in 1925, Blå Jungfrun could be purchased and turned over to the government.
Bearing the stamp of the ice sheet
The island was shaped by the ice sheet. The mass of ice that came gliding from the north upon the island's northern side ground the island into a streamlined shape. On the island's southern side, the ice moved downwards instead, breaking rocks loose along cracks in the granite. Deep ravines were formed. One of the largest, known as Prästkåsbranten, is located by the shore north-east of the summit.