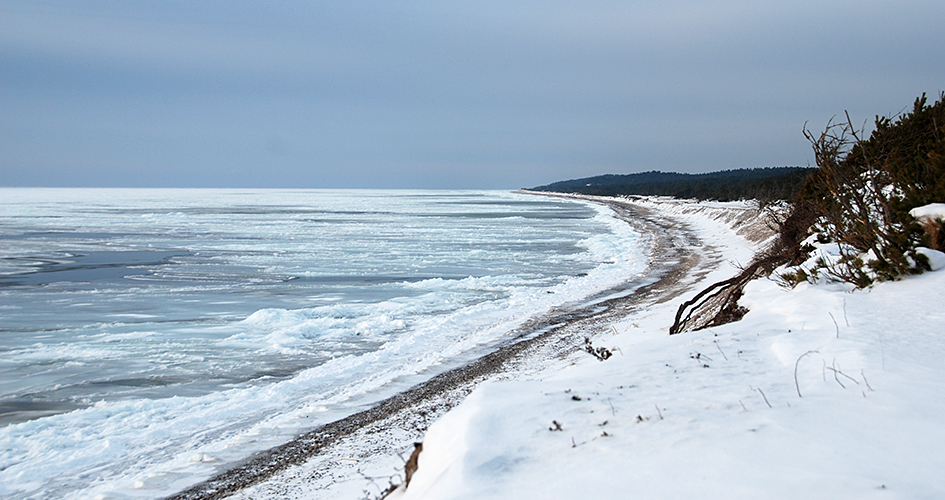 Foto: Magnus Lepschi
When you should visit the park
The season for visits begins at the end of May and continues until the beginning of September. With your own boat, you can come out all year.
There are always two park officials on site year-round, but there are no guides or other services available for visitors outside the visiting season.
Spring
During early spring, in March, seal pups are born on the beaches and white-tailed eagles mate over the island. Tens of thousands of long-tailed ducks can be seen outside the island. The visiting season starts at the end of May.
Many bird-watchers come to experience the migratory birds' passage via Sandön on the journey northwards. The best place for bird-watching is Bredsandsudde. In Kapellänget the autumn leaves are cleaned up. Seals lie at Säludden on days when the wind is south-westerly. The sea is cold after the winter, and spring can arrive a couple of weeks later than at Gotland.
Summer
The island's deciduous forests turn green. White helleborine and dark red helleborine orchids flower. The wild strawberries ripen. Parrot crossbills appear in large groups at the pond in Kapellänget and by the birdbath in Fyrbyn. Gulls, terns, oystercatchers and other birds have their young along the beaches, and elder ducks swim with their young in the sea.
The seals bask in the sun on the rocks by Säludden. Sometimes you can hear golden orioles and greenish warblers in the deciduous forest sections. The warning calls of the Eurasian hobby can be heard in the forests. If you are lucky, you can find yellow chanterelles. The grass in Kapellänget and around Gamla Gården is cut.
Autumn
The last passenger boat trip departs at the beginning of September. Now the wind often comes up and the temperature gradually drops, but it is still mild because of the sea temperature. Mushrooms begin growing in large quantities, and the lingonberries now are ripe. Birds migrate back towards the south. The young white-tailed eagles now fly around with their parents.
Winter
During winter the island lies in repose, except for the beaches, where storms reconfigure the sand and gravel. Bredsandsudde can change shape from one day to the next. Numerous white-tailed eagles can be seen around the island's beaches, often with a cormorant in their talons. If it is a cold winter, ice can begin to pile up and at times form embankments along the island's shorelines.