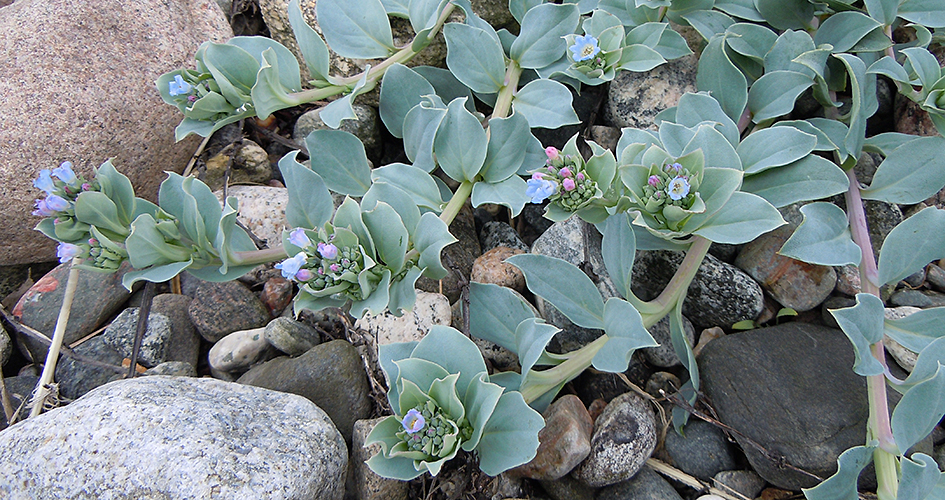 Foto: Stefan Husar
Plant life
An estimated 6,000 species of plants, animals, fungi and lichens live in the land area.
Many species threatened with extinction that live only on the coast can be found at Koster and the adjoining islands and islets. Some examples are oysterplant, sea holly and yellow horned-poppy. Proximity to the sea, the many hours of sunshine, the partially weathered rock and the shell gravel embankments make for excellent growing conditions for plants that need ground rich in lime. Koster is leeward of southern Norway, which mitigates the westerly and north-westerly low pressure systems. This contributes to a mild climate.
Some typical Koster marine plants:
Large-leaved lime
Tilia platyphylla grows by Ekenäs on the south coast and on northern Öddö island. The large-leaved lime, one of Sweden's rarest trees, grows in only a few places in northern Halland and northern Bohuslän. It is said to be a holdover from a warmer and leafier time several thousand years ago.
Alkali buttercup
Ranunculus cymbalaria is a creeping buttercup with pale yellow flowers. It actually is a North American and East Asian plant that was first found in Europe in 1916, on the Hvalerö islands north of Koster. A couple of years later there also were reports of it from Koster. Today the alkali buttercup grows by marshlands at Valnäsbukten on North Koster.
Sea holly
Eryngium maritimum is a beautiful bluish-grey and spiny plant. It grows in sand, gravel and stones by Kilesand and the eastern parts of Koster Strait. It is a rare species that is scattered in some places along the coast of southern Sweden. The local name for sea holly is Koster thistle.
Oysterplant
Mertensia maritima creeps along between stones on the barren shingle field. It is an arctic species that has some of its southernmost occurrences in Europe on Sweden's west coast. The oysterplant is a lovely, special flower with bluish-green leaves and blue blossoms.