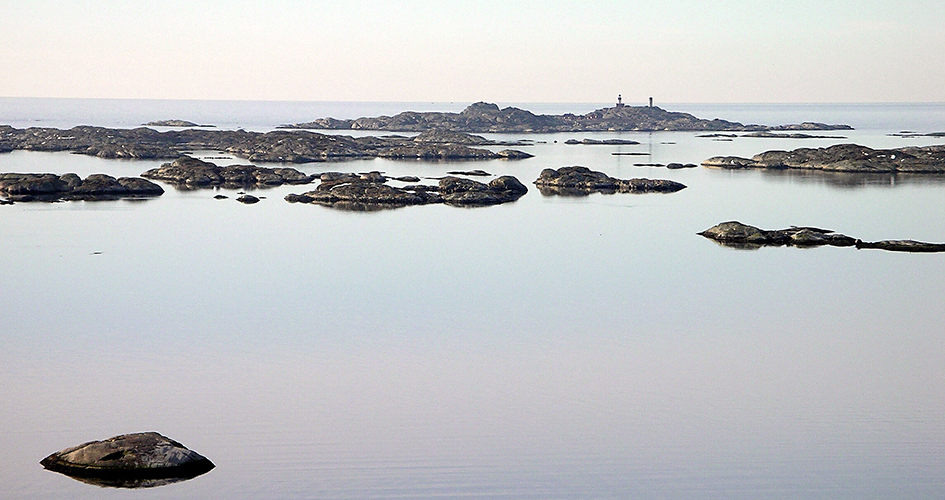 Foto: Bengt Frizell
The islands and the people
Reefs, islets and skerries rise above the surface of the sea. There are forest-clad islands such as Saltö and Kockholmen here and barren outposts such as Ursholmen and Segelskären.
The Koster islands are situated in the centre of the national park, with a lovely blend of amiable cultural landscape and windswept outer archipelago.
A variable landscape
On the Koster islands and in the surrounding archipelago, sheep, goats, cows and horses graze. This is crucial for the landscape's appearance and for the abundant vegetation. The landscape is extremely variable. Typical features are the lush areas and the cultivated land in the inner portions of the islands as well as the more barren outlying land, with bare rocks and seashore meadows, dry rocky ground, forests, shingle fields and sandy beaches closer to the water. The contrast between the outer, westernmost parts and the inner areas is great, despite the fact that the distances are small.
Little damage to nature
In the Kosterhavet area people live side by side with plants and animals. There is a vibrant local community with 20,000 residents here, where fishing and tourism are important industries. The area is utilised with care and with a view towards what is best for both people and nature – all to preserve the unique environment that Kosterhavet and the archipelago represent.
Local participation in decision-making
When Kosterhavet National Park was formed, the local population approved the decision and residents had an opportunity to become involved in development of the area. There is collaboration among several agencies and the Kosterhavet delegation, which includes the municipalities and community associations, in efforts to further develop Kosterhavet National Park in a way that will benefit both people and nature.
Settlement
Koster has been inhabited since at least the 14th century, and its settlement reflects a long span of time and in many ways has special implications for Koster and its history. All of South Koster and the built-up southern part of North Koster has been designated as being in the national interest for cultural heritage preservation. Ursholmen's lighthouse station also has noteworthy buildings.
Sustainable fishing
The fishing carried out in Kosterhavet is primarily for shrimp, Norway lobsters and other lobsters. Fishing is important for the district and is sustainable. There is also fishing for crab and mackerel, and blue mussels and oysters are raised on a small scale. At the end of the 1990s, a comprehensive review of shrimp trawling's impact on the environment was carried out, and several new regulations were introduced. Commercial fishermen and the authorities signed an agreement in 2000 that governs shrimp fishing today.
Hunting and farming
Even in a national park there is hunting, albeit on a small scale. The land here also is used as a grazing area for sheep, cows and horses. The grazing livestock help to preserve the wide range of plants.