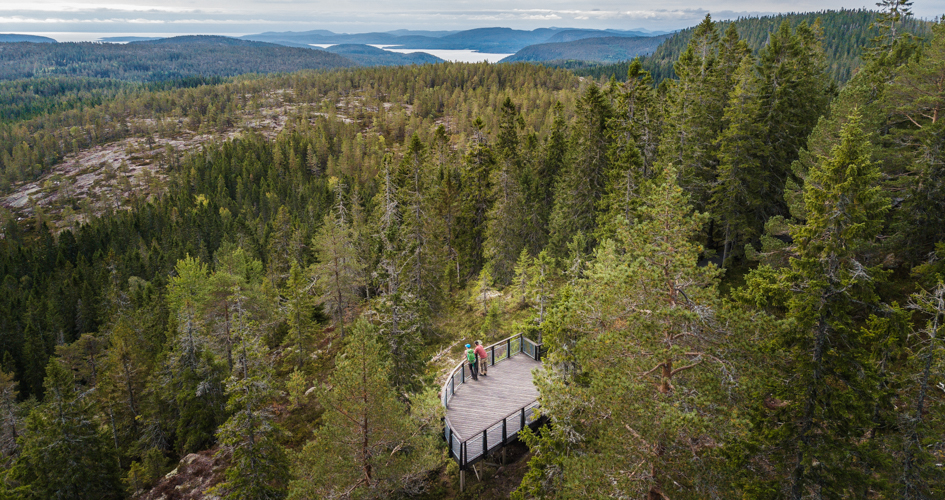 Foto: Erik Engelro
Hikes from the West Entrance
The West Entrance is situated in the north-western corner of the national park about 300 metres above the sea.
About the activity
This entrance is very accessible, as are the adjoining paths towards nearby vantage points. From the car park a wide wooden ramp extends 200 metres into the forest to a large wooden deck with seating, a fireplace and information boards about Skuleskogen and the High Coast World Heritage Site.
From the entrance deck a gravel walkway adapted for wheelchairs leads out to a vantage point on the south-eastern slope of Nylandsruten mountain. The path towards the Långtjärnhällorna heights and farther into the national park ends after about 300 metres.
Nylandsruten 0.8 km
The vantage point on the south-eastern slope of Nylandsruten mountain is easily accessible and offers a panoramic view in clear weather. In addition to a large part of the national park, from here you can also see the Skags lighthouse in the north-east, the Trysunda nature reserve in the east and the Ulvöarna islands in the south-east. Below the slope gleams the dark mirror of Svartjärn tarn. Enjoy!
Nylandsruten is known as a skullcap mountain. The upper part of it has never been beneath the surface of the sea after the ice sheet covering the High Coast melted away. In the east the top of yet another skullcap mountain inside the national park stands out against the horizon.
Långtjärnhällorna 1.2 km
Via the path that loops through Långtjärnhällorna (a skullcap mountain), in good weather you get fantastic views of the High Coast and large parts of the national park. The path, most of which goes across rocky ground and on boardwalks, is easy to walk and well worth a visit.
Farthest out on the path, where it turns back, there is a windbreak and an earth closet.
Note that you are NOT allowed to build a fire at this windbreak because of the risk of fire spreading.
Skrattabborrtjärn 2.7 km
The tarn is centrally located in the national park and 2.7 kilometres from the West Entrance.
There once was a collection of summer dwellings at Skrattabborrtjärn known as Norrsvedjebodarna. Up until the turn of the 20th century, there were as many as 10 buildings on this site, where people spent the summer while tending livestock.
Today there is a log cabin with six wide beds and the possibility of pitching tents on the old grazing land. The cabin is open to visitors year-round.
From Skrattabbortjärn you can hike farther eastward in the direction of Slåttdalen and the Slåttdalsskreva crevice, a distance of about 3.5 km. On this section you are walking over high rocky ground with a flat-rock pine forest that is sparse and characteristic of the national park. In clear weather you get a panoramic view of the High Coast archipelago.