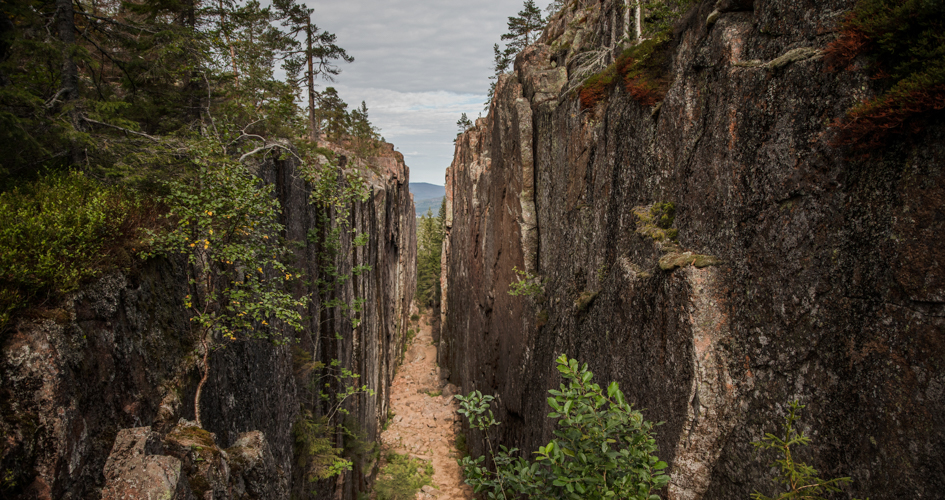 Foto: Erik Engelro
Slåttdalsberget from the south entrance
The South Entrance (70 metres above sea level) is located at the verdant southern slope of Moberget mountain and is largely built of the reddish Nordingrå granite.
About the activity
Visitors can sit here and gaze at the grandiose view of the southern part of the Gulf of Bothnia. The Höga Kustenleden (High Coast Trail) also passes by here, and near the park entrance the trail makes a detour down to the sandy beach by Kälsviken cove.
Slåttdalsberget
3.1 km from the South Entrance.
From this entrance you can also reach the renowned Slåttdalsberget mountain, with the Slåttdalsskreva crevice. Follow the orange markings on Höga Kustenleden (the High Coast Trail). The hike up through Slåttdalen valley takes you past several of the land uplift's typical phenomena.
After first hiking almost one kilometre through towering spruce forest, you begin the real climb. Boardwalks have been installed for about half of the section. The remaining portions are challenging at times, with many rocks and roots. The distance to the crevice is more than three kilometres and the difference in elevation is about 200 metres, so allow plenty of time and use sturdy footwear. Hiking sticks or Nordic walking poles are recommended.
When you have reached the Slåttdalsskreva crevice, don't forget to go out to the vantage point on the north side. If you decide to take the path over Slåttdalsberget mountain on the way back, you will get even more magnificent views, if that is possible.