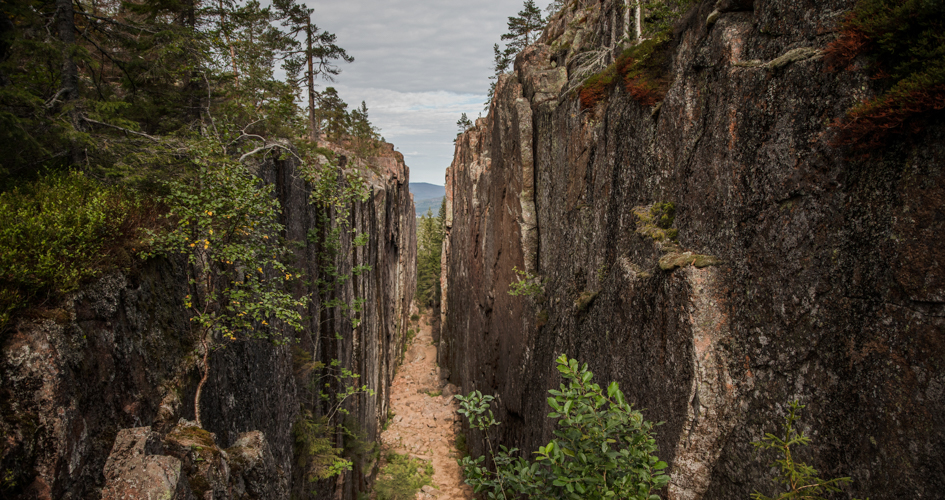 Foto: Erik Engelro
Slåttdalsberget and the crevice of Slåttdalsskrevan
The most popular sight in Skuleskogen is Slåttdalsskrevan, a 200 meter long and 30 meter high crevice that cuts the mountain of Slåttdalsberget in half. From the top of the mountain you will find impressive views over the national park and the coast.
About the activity
Slåttdalsberget and the renowned crevice is situated in the centre of the national park and can be reached from all entrances. It is a nice day-hike where you can experiences most of the characteristics of the park. The trail passes over the mountain top on the side of the crevice with stunning views.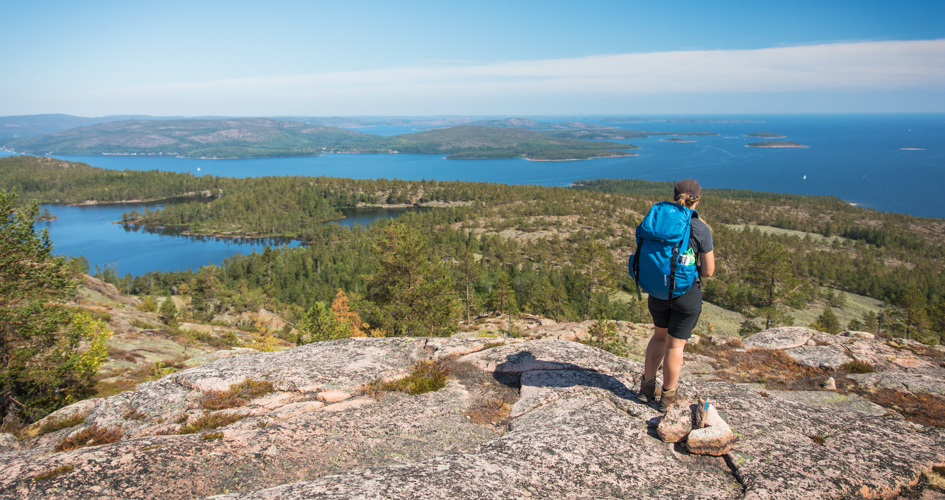 From the west entrance
When you hike to Slåttdalsberget from the west entrance you pass through wild forests and are met with several nice view points on the way. It is six kilometers one way. Not the shortest route but the most beautiful.
From the north entrance
Hiking from the north is also a nice experience. You will start at sea level and pass a nice sandy beach before the trail goes upwards. Passing the seren lake of Tärnättvattnet you will find an open cabin for a break. Follow the trail up through strenuous and rocky terrain. This hike is 4,5 kilometers one way but steeper than hiking from the west.
From the south entrance
Hiking from the south entrance is the shortest, 3,5 kilometers, but it is the steepest route and not as nice as hiking from the other entrances. The trail goes upwards through the forest and you will not get nice views until you reach Slåttdalsberget. It is important to keep in mind that this is a strenuous and steep hike and it will probably take longer time than you think.
Avoid hiking from the south entrance in July! In the middle of the summer the parking lot at the south entrance gets completely full and has to be closed during part of the day by the park management. If you visit the nationalpark in the busy time of summer you will have a nicer experience starting at the west or north entrance.
Hiking during winter
Slåttdalsberget and Slåttdalsskrevan is possible to visit during winter but keep in mind that it might be plenty of snow. You might need snow shoes or skies to travel in the nationalpark. Part of the winter it might also be very icy and slippery.
If you have questions about visiting Skuleskogen in the winter or wonder about the current snow conditions please contact naturum High Coast all year around.
Map
In the link below you will find a map over the trails and sights of the national park.