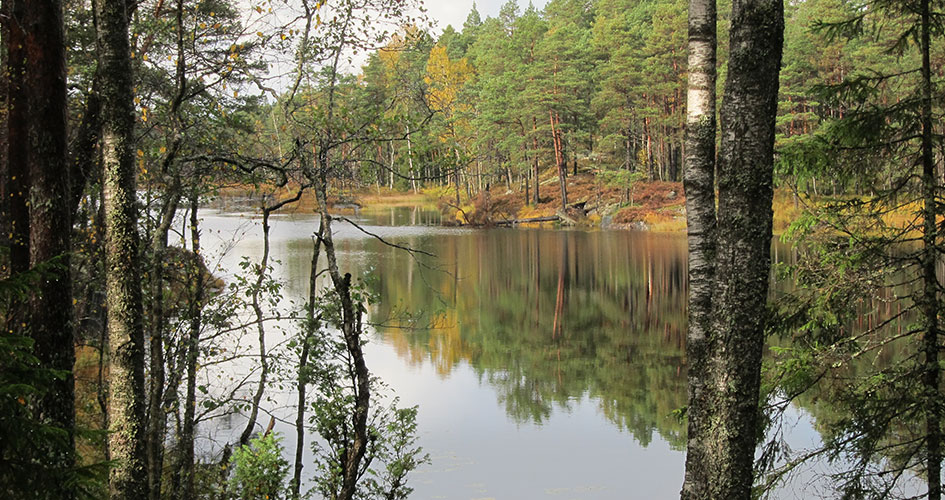 Foto: Länsstyrelsen Västra Götalands län
Widlife
Mammals such as elk and roe deer are in the area, and in some places you can see traces of beavers. The oldest established wolf territory in the county in modern time also is here.
It is usually called the Ed-Halden territory. As the name indicates, the wolves roam on both sides of the border – in Norway's Dals-Ed and Sweden's Halden areas. Through the years, new parent wolves have continuously come along to replace the old animals that have passed away.
Birds
Hole-building birds here include the crested tit, great tit, pied flycatcher, redstart, great spotted woodpecker, black woodpecker and common goldeneye. The European robin, chaffinch, willow warbler and tree pipit are common, as are the willow tit, goldencrested wren and siskin. It is not unusual to come across some female black grouse, capercaillie or hazelhen.
Waders such as the common sandpiper and green sandpiper can be observed at lakes and tarns. Nightjars are found throughout the area.
Fish
Lakes in the national park have been severely afflicted by acidification and lack a fish population. One exception in Stora Tresticklan lake, where perch still manage to reproduce. In the brook leading from Stora Tresticklan, there is a lime dispenser to neutralise the water before it reaches Stora Le lake.
Insects
The area rates high in nature values when it comes to insects. In 2008 an inventory was conducted within the "action programme for preservation of beetles in pines that have recently died". Two species included in the programme, Cerylon impressum and Platysoma lineare, were found then. In addition, Etorofus pubescens and a number of other endangered species associated with old pines were found. Those finds suggest that it is very likely there is much more to discover here.