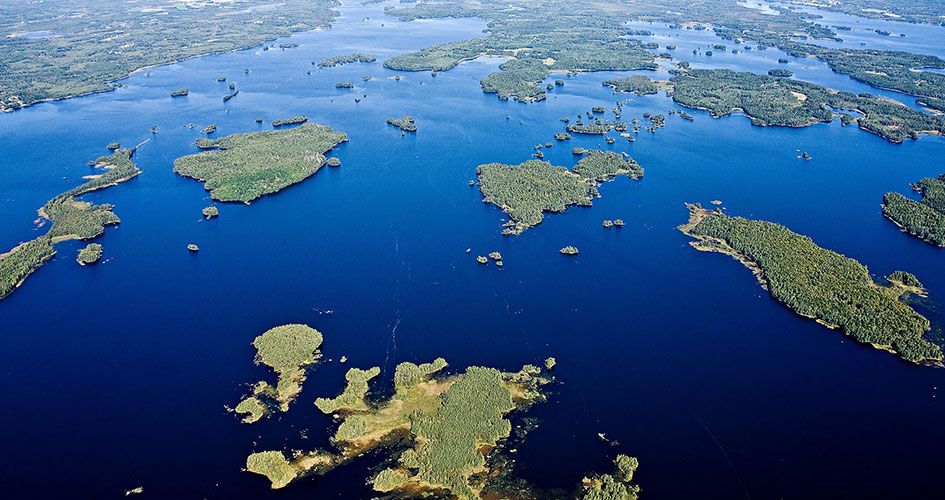 Foto: Bergslagsbild AB
Geology
The national park is south of the uplands of Småland, and the terrain is very flat here. The highest point is at the centre of Bergön island, 25 metres above the surface of the lake.
Most of the bedrock is granite and porphyry. Clean rock – and boulder fields are common in the region. The esker known as Husebyåsen extends through the region, beneath and above the surface of the lake. The long peninsula of Ulvöås is part of this.
Inland ice
The retreat of the inland ice 11,000 years ago left behind an enormous ancient lake, Värendsfornsjön. The movement of the water in this ancient lake formed shore areas as gravel, sand and fine material were washed away, leaving behind boulders and rocks. These can be seen clearly near to the Sunnabron entrance and in the central parts of the Bjurkärr peninsula.
Limnology
Lake Åsnen is 150 km² in area, and after Bolmen is the second largest lake in the lake plain of southern Småland. The main stream of the Mörrumsån river and the Aggån river are its main feeders. The lake's inflow area is 3146 km2 in size, and the average run-off is 26 m3 per second. Farming communities extend around the northern and north-eastern inlets of Åsnen, where shore meadows and fens merge into the reeds of the lake. Other parts of the shoreline are rocky and covered in boulders, with trees frequently found all the way down to the waterline. The water is clean, but brown and moderately rich in nutrients. The lake has flat shores and lots of stony ground. It is just some three metres deep on average, and at its deepest the water is 14 metres in depth. The lake is lowered and controlled.
This lake is home to considerably more fish and water snail species than other lakes in the county. While fish and crayfish stocks in most of the county's lakes are made up of about a dozen species, Åsnen is home to 20. That said, a number of them have been implanted in Lake Åsnen or upstream: pike-perch, signal crayfish and smelt, perhaps whitefish as well. Rare species include the gudgeon and Squalius cephalus. Migration of eels upstream from the sea is interrupted by power station dams and replaced by the transplantation of elvers.
The county administrative board is working actively to create fishways past barriers to migration downstream of Åsnen so that eels, salmon and other species can migrate freely up to the lake in future.