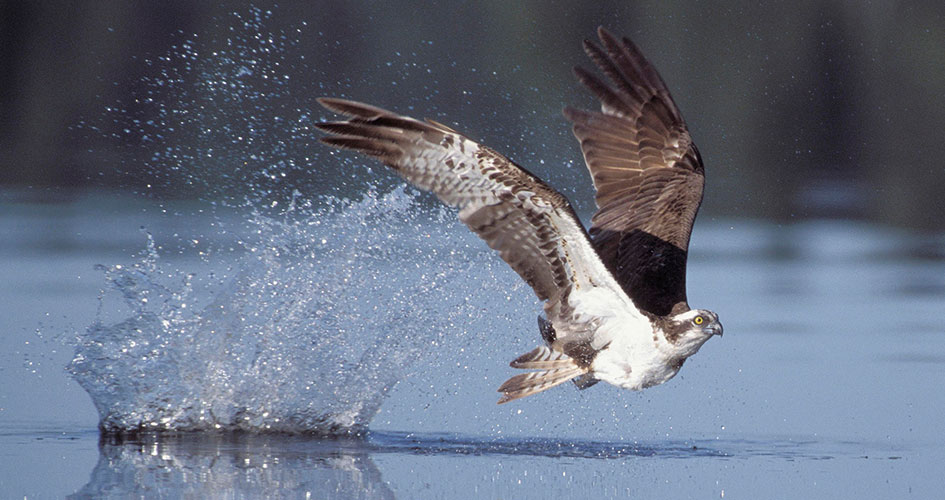 Foto: Ullstein bild/ImageBroker/IBL
Wildlife
Åsnen is well-known for its importance to birdlife, which benefits from the rich variety of fish found in lake.
Much of this region is home to birds, plants and insects that have become rare or even extinct in other locations as the landscape has undergone change.
Birds
The forests, wetlands and water all help to ensure plenty of bird life throughout the entire Åsnen region: ospreys, white-tailed eagles, Eurasian hobbies, European honey buzzards, smaller woodpeckers, greylag geese, black-throated loons, great crested grebes and common mergansers can all be found here. The importance of Åsnen to birdlife is renowned, and this lake is included in the list of wetlands of international importance (the Ramsar Convention). Alongside its role as a breeding area, this lake is very important as a place for birds to rest and spend the winter.
Insects
Rare and endangered species that are dependent on old trees, hollow trees and dead wood are common at this national park. Stictoleptura scutellata, an endangered species, is one such example. Uloma culinaris and Dendrophagus crenatus are other species you might encounter.
Mammals
Elk, fallow deer, wild boars, lynx, foxes and hares are some of the larger mammals you might see. Otters can sometimes be seen in the lake.
Fish
The lake is home to around 20 fish species, the most common of which are perch, roach and white bream. The next most common species are pike-perch, pike, bream and Eurasian ruffe. The gudgeon is one of the rarer species.