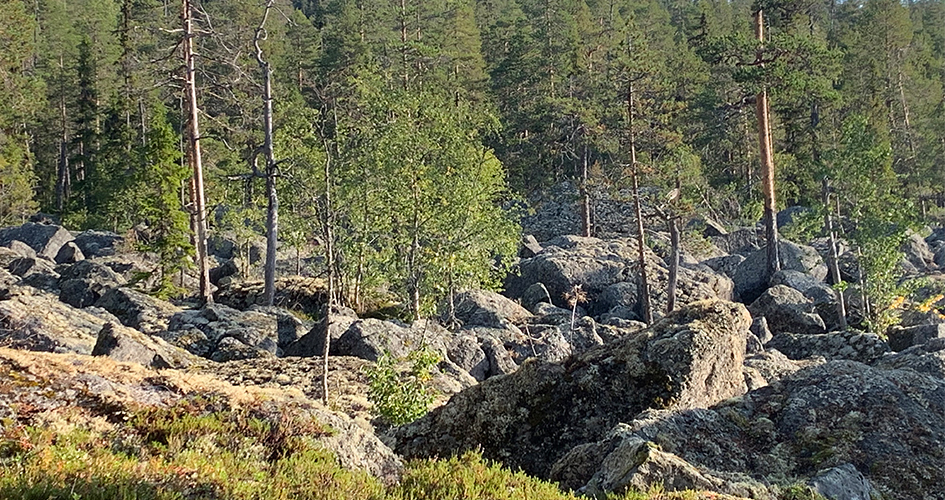 Foto: Länsstyrelsen Västerbotten
Geology
You cannot escape the hills, rocks and stones of Björnlandet national park. Steep slopes, vast swathes of rocks and massive stones give the forest its character. The terrain has been difficult to navigate since the most recent ice age.
The red-grey Revsund granite
The area's bedrock consists of red-grey Revsund granite. This rock is typical of the inland areas of southern Lapland and Jämtland and creates nutrient-poor moraines. The rock itself is coarse-grained. It weathers easily and contains potassium feldspar crystals up to 10 cm in size. The rock is estimated to be around 1,800 million years old.
Exciting sunken rocks
The sunken rocks were formed during one of the ice ages, when the movement of ice broke off many mountain peaks and deposited them along the way. This is sometimes referred to as flow-till. Subsequent frost weathering has raised and lowered rocks and stones. Carpets of lichen, knotted pines and the occasional rodent or bat make themselves at home amongst the sea of rocks.
Steep slopes and rock caves
The peak of Storberget fell is 551 m above sea level, and is the highest point amid a massif that includes Jon-Esberget and Björnberget fells. There are many mighty slopes and precipices around these fells and Häggsjöberget. Occasionally, you will find incredibly old pine trees around these hard-to-reach areas. Often, close to the precipices there are areas with giant rocks that sometimes create rock caves.