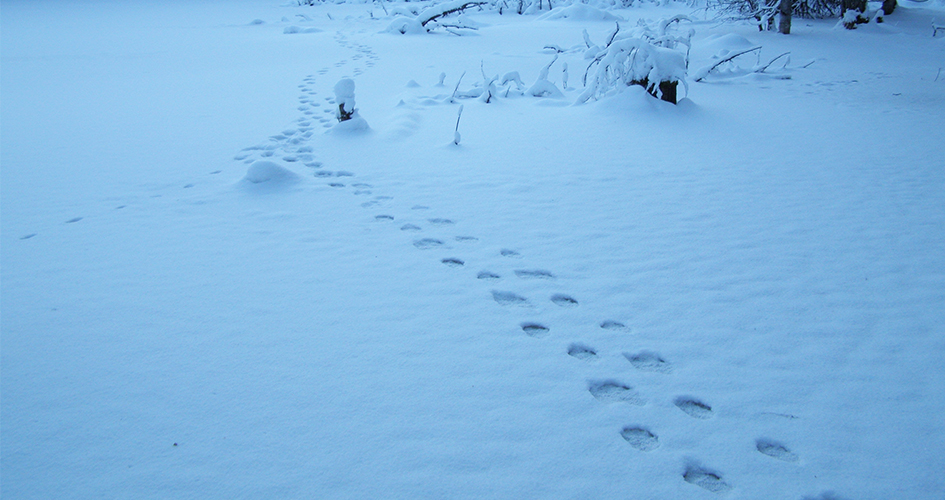 Foto: Länsstyrelsen Västerbotten
Wildlife
Stay alert! The wildlife around Björnlandet has been well documented and to fully appreciate the animals' presence, you need to stay quiet and pay close attention.
Birds in the forest
There is a good chance you will see birds such as the wood grouse and Siberian jay. Every now and then, you might be able to catch a glimpse of mixed flocks of birds foraging for insects, willow tits – and maybe even the European crested tit. Large woodpeckers are common, and occasionally you can spot black woodpeckers and the Eurasian three-toed woodpecker. As the winter ice melts away from the Angsjö lake and early summer arrives, bird life awakens and you will be able to see whooper swans and common goldeneyes, with common sandpipers and wood sandpipers appearing later on.
A treasure trove of insects
A total of 1,100 insect species and other creepy crawlies have been documented in the park. Here are some examples: The threatened long-horned beetle Nothorhina muricata that thrives in shellbark pine. The traces left behind from the beetles gnawing at the wood can be found in around 100 locations around the park. Keep an eye out for the gull-like gnaw holes left behind on pinewood. These come from the common pine shoot beetle.
Tracking mammals
During the winter, you can easily see the tracks left by squirrels, mountain hares, red foxes, elks and reindeer. With a little luck, you might even see pine martens, lynx and wolverines. The smallest mammals flourish amongst the rocks and stones of Björnlandet. Some of the most unusual species include the wood lemming and the masked shrew. You probably won't catch sight of the northern bat or Brandt's bat, but rest assured they are here in the national park.