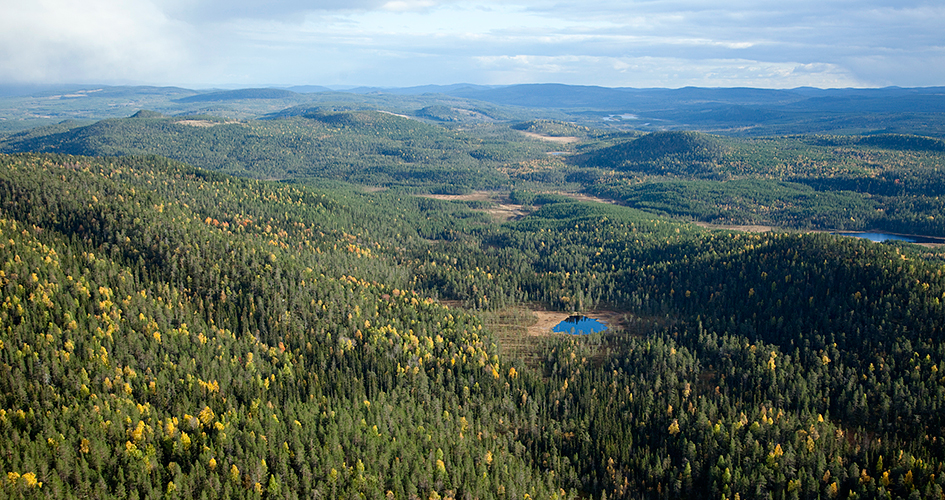 Foto: Leif Bygdemark
History
At the start of the 1980s, the Swedish Environmental Protection Agency and county administrative boards created a national inventory of Sweden's remaining major virgin forests. In 1986, an in-depth inventory of Swedish forests was presented. It proposed demarcation for the park.
Discovery of new, valuable forests
Between 1995 and 2000, the county council created an inventory of the areas immediately east of the park.
An inventory of protected state forests from 2003 formed the basis of a review of the 2006-2008 national park plan. The Swedish Environmental Protection Agency's national park plan of 2008 and the county council's inventory created when establishing the eastern and southern parts of Björnlandet national park formed vital supporting documentation for the national park's expansion.
The expansion project 2013–2017
A positive collaboration between the Swedish Environmental Protection Agency, Västerbotten County Council, Åsele municipality, landowners, hunting teams and the northern Sámi area of Vilhelmina characterised the work to expand the national park. This collaboration resulted in the creation of suitable rules and regulations, the zone system, and a management plan with ambitious targets for outdoor recreation and conservation management. The work took place in several stages:
Establishing details about the area through inventories, consultations, access to land and conservation planning,
Entry and accessibility through trails, cabins and entrances,
Introduction of the Sweden's National Parks brand.
Inauguration
On 15 March 2017, the Swedish parliament agreed to the Government proposal to expand the national park. On the sunny day of 10 June 2017, Björnlandet national park was re-inaugurated with speeches from the county governor, municipal commissioner, and director general. In addition to dedicated guides, the Åsele riding club and a local coach company, Eskils bussar, helped with logistics. We erected large tents by the Angsjö entrance and served soup and cake for the guests. Music from Johan Norberg and Jonas Knutsson helped set the mood right next to the taiga's 500-year-old pines.