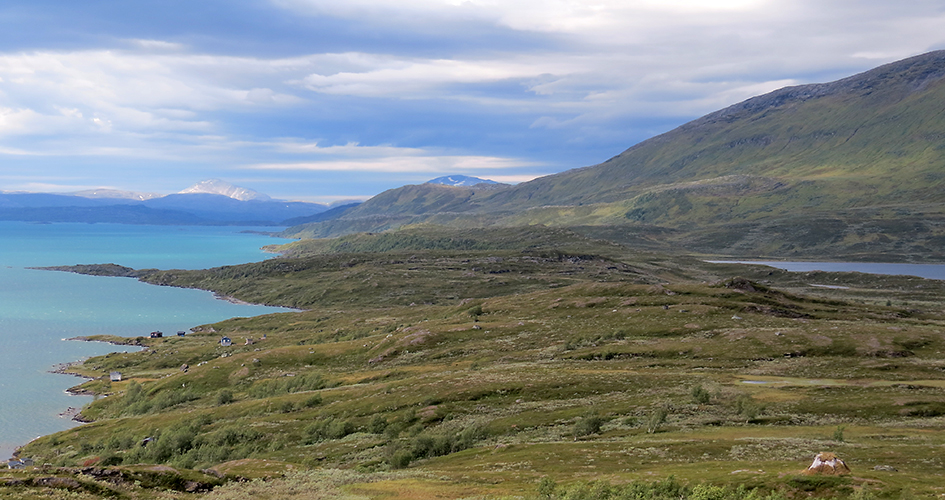 Foto: Laponiatjuottjudus
Viewpoints
Enjoy a breathtaking view at Jiegŋáffo mountain and the Stáloluokta mountains or wander the Old Padjelanta trail.
About the activity
The old Padjelantaleden trail
From Gisuris the old Padjelantaleden trail proceeds over the high ridge of Njierek. In beautiful weather you will get a fantastic view of the large lakes and Sarek's peaks. The trail is marked and easy to walk. During the hike you can enjoy masses of colourful flowers and come across the timid dotterel, which the Sami call "bižus" and consider a "noaideloddi", a sacred bird.
Jiegŋáffo mountain
On a clear day you can see all the way to the Lofoten archipelago and the Atlantic from Badjelánnda's tallest mountain, Jiegnáffo. This is Sweden's most renowned flowering mountain. It also makes for a fine hike on days when the top is shrouded in clouds. Mount Jiegnáffo has a chant of its own improvised by the Sami, who have repeatedly hiked up and down its slopes because the reindeer often withdraw here to avoid the mosquitoes.
The Stáloluokta mountains
Go up on one of the small mountains around Stáloluokta to look out across Badjelánnda's undulating landscape and large lakes. You will see the Norwegian mountains to the west, Sulidälbmá to the south and Sarek to the east.