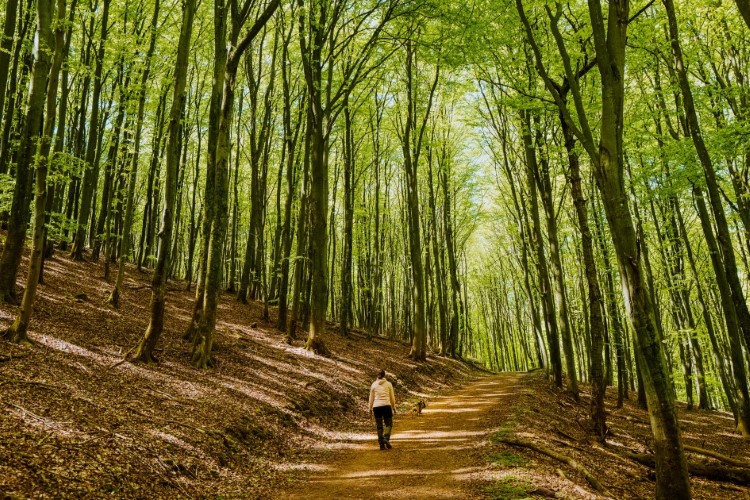 Foto:
Getting here
Söderåsen National Park is 40 kilometers east of Helsingborg in Skåne. The national park is situated on the ridge Söderåsen which stretches from Åstorp in the north west to Röstånga in the south east.
The main entrance with the naturum Söderåsen visitor centre is in Skäralid, along highway 13 halfway between Röstånga and Ljungbyhed. The south entrance with the tourist office is in Röstånga. There are bus stops at both entrances and in several places along the national park border.

We have quite a lot of visitors at the main car park in Skäralid on weekends and during high season (June, July, August). It is also very popular to visit in spring - during the leaf burst and in autumn during the autumn colouring.
Please come early if you want to be sure to have a place to park your car.

Most visitors come for the views and for hiking. If you prefer a calmer nature experience we have some suggestions for alternative nature areas in the national park vicinity which might be of interest. Please look at "Nearby nature areas" in the menu to the left or follow the link below
Get directions to the National Park
You can travel to the national park from many directions, below there are suggested routes from Helsingborg and Lund.
You can also use the following coordinates to navigate here...
For main entrance car park: N56 2'22,991" E13 15'9,118"
For Härsnäs car park: N56 1'16,927" E13 15'55,557"
For Röstånga car park: N56 0'10,857" E13 17'21,078"
Go to the National Park by bus
The bus stop for the main entrance and visitor centre is:
Skäralid, nationalparken
The bus stop for the south entrance is:
Röstånga busstation (busstn)
There are also other options for embarking/disembarking along the main road.
You have the following stops between Röstånga (in the south) to Skäralid (in the north)
Uggleröd
Härsnäs
Ibsberga
Skäralid - pensionatet