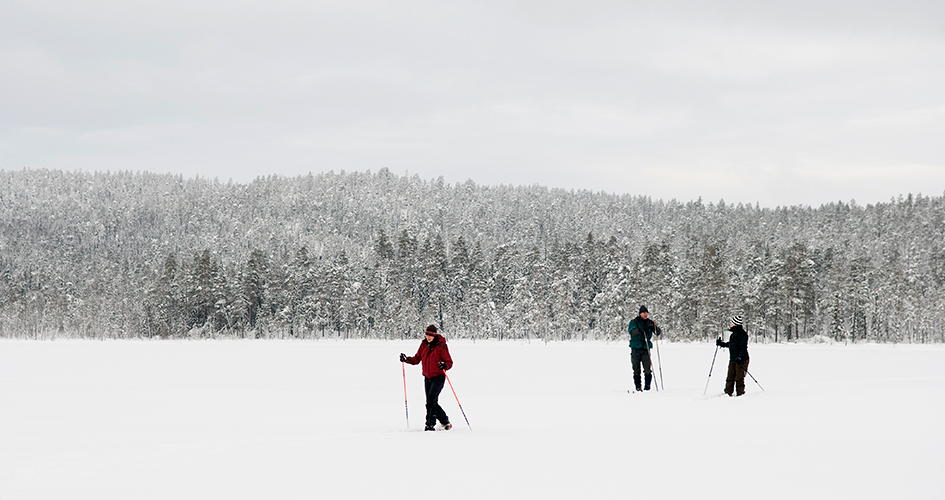 Foto: Andreas Garpebring
Cross-country skiing
Björnlandet national park is nestled in the quiet corner of Norrland's landscape. Here, you can go cross-country skiing in peace and quiet and simply soak in nature's sounds.
About the activity
Skiing in the national park
During the winter months, it is easier to ski over the wetlands around Angsjö and towards Björkbäcken. There are no ski tracks, but you will often find tracks left by the snowmobiles that have driven up to the cabins to deliver firewood.
Daylight is scarce, but the light at daybreak and nightfall can be very beautiful across the winter landscape. Sometimes, the light from the moon can be so bright you can go skiing in the moonlight. Just make sure to watch out for open streams or other hollows.
Stay the night in the Angsjö cabin
The Angsjö cabin is a suitable place for up to 8 people to spend the night, or simply use as a rest area.
The use of snowmobiles is forbidden.
Off-road driving is not permitted within the national park. If you do see snowmobile tracks, these will have been left by reindeer herders or park rangers. For example, firewood needs to be driven out to the Angsjö cabin.
Time
Winter and early spring
Equipment
It is a good idea to bring wide skis to use when making your way through the forest.
Other
The roads ploughed: The roads leading up to the Angsjö and Häggsjö entrances are ploughed throughout the winter. The spring snow can be fantastic for skiers.