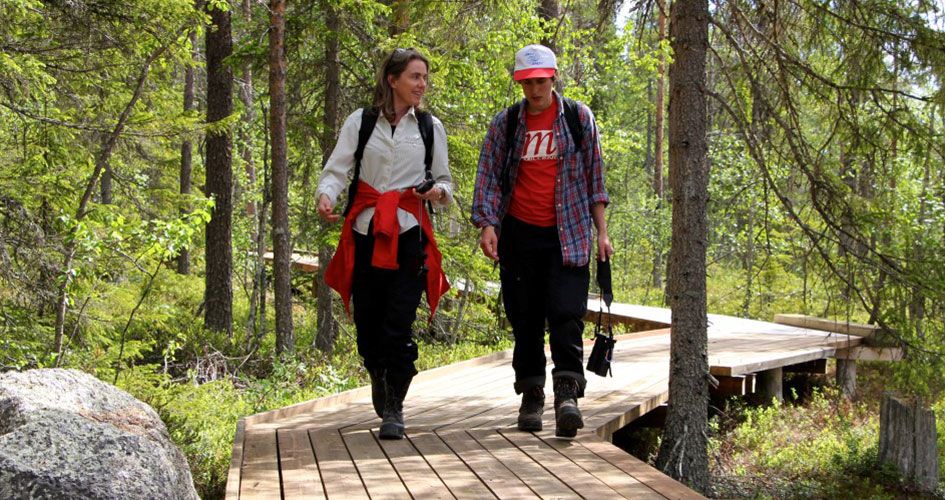 Foto: Länsstyrelsen Västerbotten
The Angsjö Entrance – your gateway to the park
The ramp will take you over a 200-year-old pine forest full of rocks, charred trees and traces of fire-damaged bark.
About the activity
You can park your car by the Angsjö entrance and walk along the 300 m ramp all the way to the national park's marker – the golden star.
Natural wood design
The facilities have been built with nature as an inspiration. The ramp, sign platform, service building and rest areas are all made of wood from trees grown slowly in Norrland.
We have included charred details as an homage to the many forest fires that have burnt through Björnlandet national park. We have also coated many parts of the ramp in tar. Tar is a natural way to impregnate older wood and stumps, especially in ancient forests.
Location
Angsjön
Nationalparken nås bäst från vägen mellan Fredrika och Åsele. En avtagsväg söderut, någon mil från Fredrika, leder ned mot Fjälltuna och därefter mot Flärkån. Sista sträckan går över Flärkån in till Angsjön vid nationalparkens östra gräns. 
Other
Please ring if the supply of wood is exhausted: +46 (0)10-225 44 55