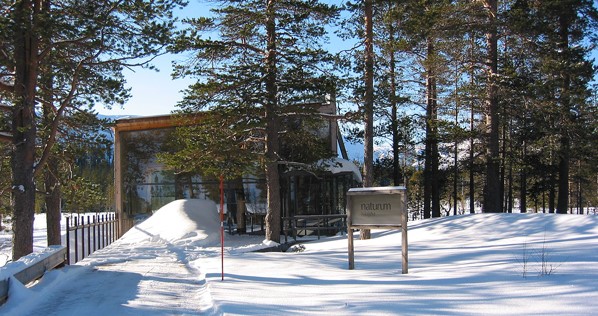 Visitor centre naturum Fulufjället
Here you will find the opening hours and program for our visitor centre naturum Fulufjället. The visitor centre is at the park's main entrance.
Naturum Fulufjället is located at the national park's main entrance. Here you will find knowledgeable staff with recommendations of trails to walk, as well as an exhibition about the national park with several fun activities, lectures, guided tours, nature films, and much, much more.
Nearby is a large parking lot, and a restaurant where you can have lunch, coffee, ice cream, or even buy a souvenir.
Several summer trails start from here, for those who want shorter hikes, and those who want to be out longer periods.
Fulufjället National Park is always open.The road up to the parking lot and the naturum visitor centre is plowed during wintertime. The restaurant Njupeskärsserveringen is only open from June to September. The rest of the year you'll find fika for sale at the naturum visitor centre.
Opening hours naturum Fulufjället 2022
26 - 31 May at 10-16
1 - 26 June at 10-17
27 June - 21 August at 9-18
22 August - 2 October at 10-17
27 - 31 December at 11-15
Welcome!
Activities
Meet a Mountain Rescuer!
Every Friday at 10-12 and at 13-15 in June - August.
Natures Calendar
Every Monday and Thursday at 10 am
Join our staff when we report the change in nature to the Swedish Phenology Network.
What plants are blooming? Which berries are ripen?
Njupeskär Restaurant is open 1 June - 2 October
Contact