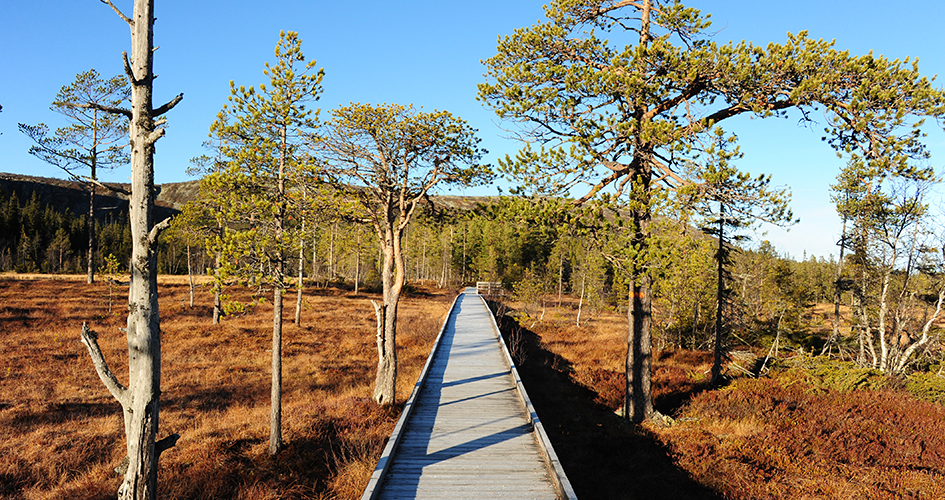 Foto: Sebastian Kirppu
When you should visit the park
Fulufjället National Park has something to offer all year round.
Information due to covid-19
Keep an appropriate distance and to follow guidelines.
Summer
In July-August the lakes can be warm enough for a pleasant swim. And some days around midsummer, early in the morning, the Njupeskär waterfall is completely illuminated by the sun. The beginning of June is good for birdwatching.
Autumn
The mountain is striking with its radiant autumn colours. Most visitors come in summer or winter, so now the silence and tranquillity are an experience in itself. In the middle - end of September is when the autumn colours are at its peak. Beware that we can get snow in the beginning of October, so don't plan your hike too late.
Winter
Ski, go snowshoe hiking or take a snowmobile along a marked winter trail. Enjoy the sun and hot chocolate in the snow or try jig fishing on Rösjö lake. And now Njupeskär rests behind an enormous veil of ice - very inviting for ice climbers. We have snow well in to May. April is a fantastic time on the mountain! December, January and February can be very cold.
The trail to Njupeskär waterfall is a summer trail and can be very slippery in the winter. We do NOT recommend you to go down in to the Njupeskär canyon, since there is a great risk of falling ice, rocks and avalanches. Winter means October-May
Spring
Spring is short on Fulufjället,a few days in the end of May-beginning of June. The snow remains for a long time in May and sometimes in June aswell. But now the light comes back, and the mountain brooks and bird life come alive. Enjoy lazy days on a reindeer hide blanket on a warm and sunny, snow-covered slope. In May the snow and ice melts, turning small streams into rapid rivers. If you wish to hike, wait until the middle of June. Most of the snow will be gone and it might not be so wet in the grounds.