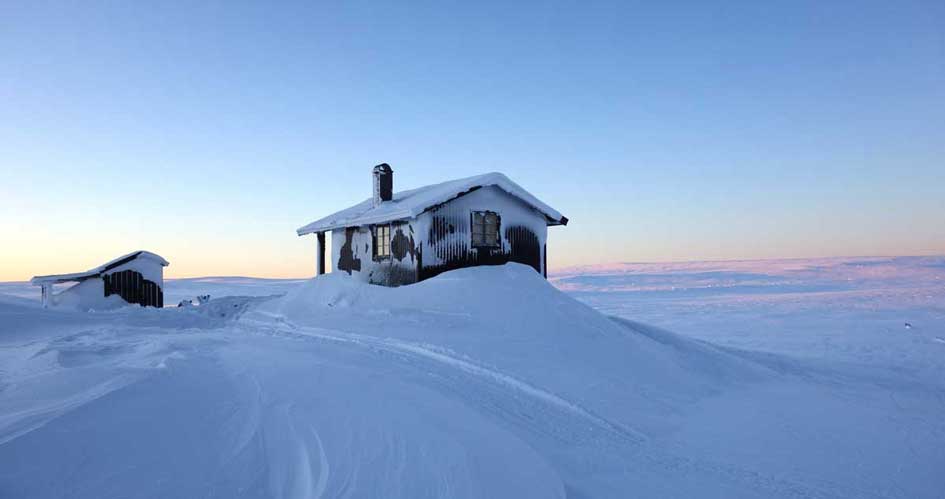 Foto: Fulufjället nationalpark
Rest, eat, accommodation
Here you'll find information about where to rest, eat and find accommodation in Fulufjället National Park.
Rest stops and toilets
There are parking lots and places to rest at our entrances. Up on the mountain you can rest in our cabins and wind shelters.
Water toilets are located at the Njupeskär entrance/naturum visitor centre. Outhouses exist at the other entrances and at our cabins on the mountain.
Grilling areas and fire
Grilling and making a fire is possible at our cabins. There you'll find fireplaces, wood, axes and saws. Make sure to bring matches and a knife, to make a fire. In Zone IV, you are only allowed to make fire at the specially prepared spots.
Please be considerate when starting fires, and mindful of the fact that you are in a protected area. Only use firewood provided at the cabins, and do not make new fireplaces. Fire extinguishers are only to be used in an emergency, they are not to be used to put out a fire after you are done grilling.
Food in the area
At the Njupeskär entrance is a restaurant called Njupeskärsserveringen, which is open from June to September with café and lunch. The menu can be adapted for larger groups. Special requests can be booked in advance. Lunch pack may be booked, at least a week in advance, by phone. Att.! Only during the summer.
Telephone number to Njupeskärsserveringen: +46 72 55 84 801
The closest villages, Särna, Särnaheden, Idre, Sälen, Ljördalen (Norway) and Gördalen have places where you can find something to eat.
In Särna, Idre, Sälen, Sörsjön and Gördalen have stores that sell food, restaurants and petrol stations.
Camping
In Fulufjället National Park, you are allowed to pitch a tent everywhere except for Zone IV, which is the area around the Njupeskär waterfall, Brottbäck cabin (Brottbäckstugan) and the Göljå entrance. Check on the map for exact zone limits.
Living accommodations/cabin rental
In Fulufjället National Park you may use our overnight cabins or rent a cabin at Rösjön, Harrsjön, Tangsjön or at Björnholmssätern.
More information about living arrangements on the mountain can be found here:
There is also the possibility to live in Mörkret, Särna, Särnaheden, Idre, Sälen, Sörsjön, Ljördalen (Norway) and Gördalen.
Feel free to check with Visit Dalarna to find somewhere to stay in the area: