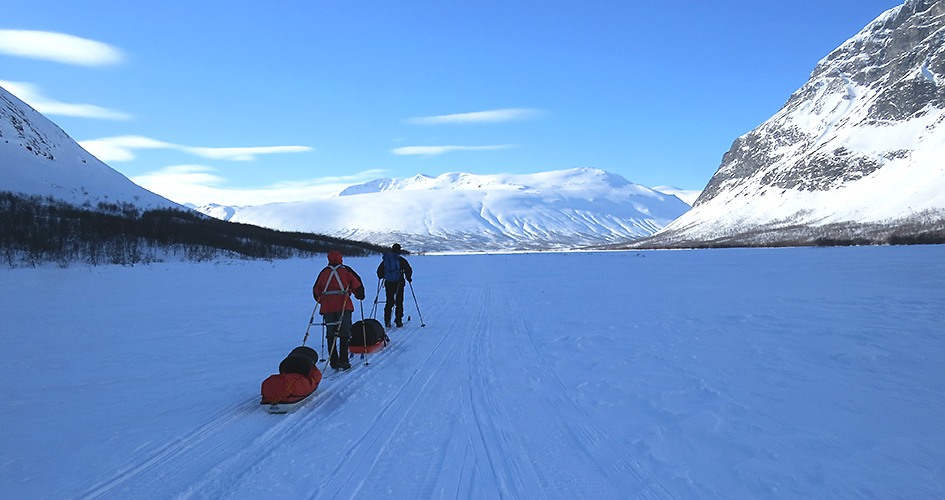 Foto: Laponiatjoutjudus
Clothing and equipment
The first thing to remember about your clothing and equipment is that you should keep yourself warm, dry and well fed.
Don't carry too much weight. Pack smart and don't bring along more than you need. At the same time, you need to take into account the fact that things can take longer than planned when you hike in Sarek. You might have to wait for better weather or lower water levels or go on a detour to proceed.
All hikes in the area require proper hiking footwear or boots. In summer as well as winter, it is good to have shoes and boots that are broken in and comfortable.
You must be equipped to wade. In Sarek so much wading may be required that it is good to have footwear solely for that purpose. If you are wading a short distance, it might be sufficient to use a cord to secure your rain pants to your boots. A pole provides good support.
Bring clothing that tolerates water and wind, and be prepared for weather than can be cold, even if you are hiking in the middle of summer.
Since there are no marked trails in Sarek, you need a map and compass. Hiking and skiing here requires independent judgement. Mobile phones work only on the outskirts of Sarek.
You have to bring along a tent, cooking gear and food because there are no cabins. Make sure that you have a good tent that can handle weather and wind. Matches are a must.
Be prepared for mosquitoes.
There is potable water everywhere. Pack a vessel that can be filled with liquid when you pass a brook.
The local population that hikes here does not go anywhere without binoculars. Being able to get a closer look at newly born calves, large predators, birds and the surroundings enhances your visit.