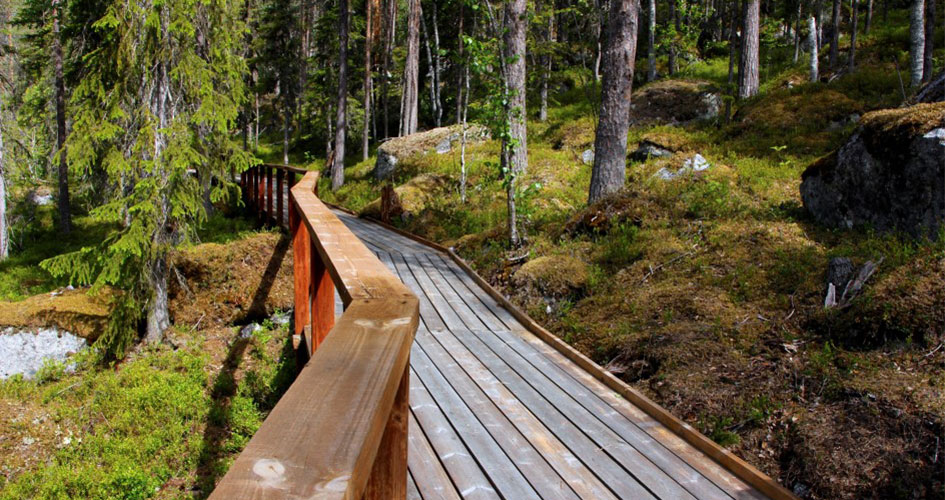 Foto: Länsstyrelsen Västerbotten
Accessibility
The Angsjö entrance
You can drive right up to the turnaround by the service building that has an accessible toilet. You will also find the start of a wooden ramp which enables access for larger electric-powered wheelchairs. It has a maximum gradient of 5%. The ramp leads to the golden star statue, and you will find a rest area and fire pits along the way. The ramp is approximately 200 m long. As you continue along the trail, you will find information about the park and an audio device that plays stories and a map of the park.
The Häggsjö entrance
A public road goes all the way to the entrance, where there is a service building with an accessible toilet. The rest area has fire pits, and a short wooden ramp leads to information about trails and the park. The ramp is made of slow-grown pine that has been treated in several ways using tar and coaling.
Trails and cabins
The trails have been planned and created to enable forest walks over bare ground. Both entrances are excellent starting points for hikes. The trails are different lengths and their difficulty varies. The can be combined to create hikes of up to 35 km. In the winter time, the Angsjö and Svärmor cabins can only be accessed by ski. The easiest way is to drive to the Angsjö entrance and then ski over the lake to the Angsjö cabin.
Each winter, a "firewood track" is created towards the cabins. This track basically follows two brooks – Björkbäcken and Svärmorsbäcken – and is not marked into the terrain. Nevertheless, the trail can usually be followed easily to the Svärmor cabin. Only reindeer herders and park management are permitted to drive snowmobiles around the national park.
Roads
Snow ploughs will regularly clear the roads up to the Angsjö entrance after snowfall. Olofssons Åkeri i Bredträsk clears the snow at the national park at the same time as Flarkåvägen remains open. The Häggsjö entrance is ploughed as often as the road that goes to the Häggsjö village. Other forest roads in the national park are not open to the public.