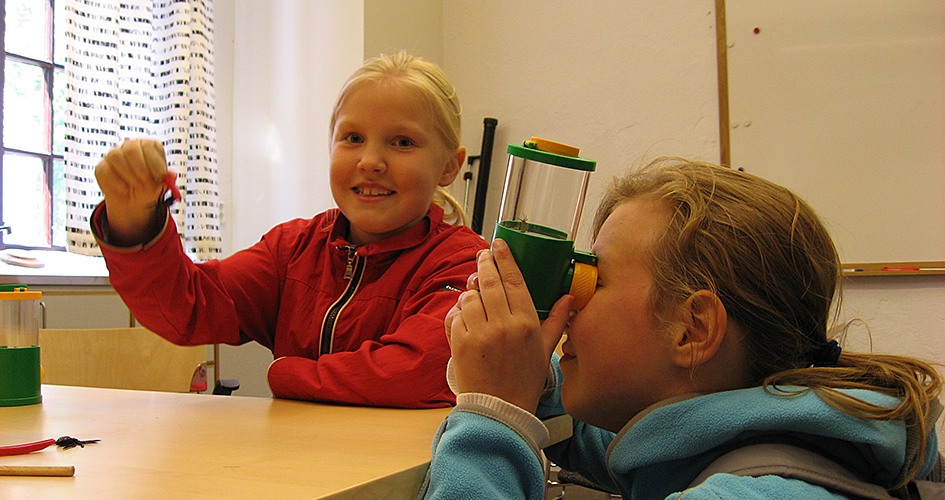 Foto: Länsstyrelsen Gävleborg
For schools
School classes are welcome to the park to experience the outdoors beyond the ordinary. We offer guided tours of the visitor centre and when possible out in the park as well.
Experiencing the park on your own is fun too – contact the visitor centre for maps and tips on places to visit.
Guided tours
Färnebofjärden offers free guided tours inside the visitor centre. Please contact the visitor centre to book a guided tour. Larger school classes divide themselves into groups of 10-15 students per group. The tour takes about 20 minutes.
The visitor centre also offers longer tours in the park when possible. These tours are intended for older students in high school and up. If you are interested in this tour, please contact the visitor centre to inquire the possibility of arranging a tour.
Water play
There is a water park adjacent to the visitor centre. Here children and adults can play to learn more about culture and the forces of nature.
Fire pits
There are several places to eat your packed lunch or grill sausages in the park. For example, you can head over the bridge to the old mill ruin and learn more about how people used the force of the river in the old days. The island has a fire pit where you can enjoy your lunch with the sound of the river in the background.
Exhibition and library
At the visitor centre there is an exhibition where you can listen to the sound of the woodpecker or visit Mr. Beaver in his hut, among other activities. You can immerse yourself in books or magazines in the library, watch a movie about Färnebofjärden or just enjoy the beautiful view of the river. The exhibition is free and open to everyone.