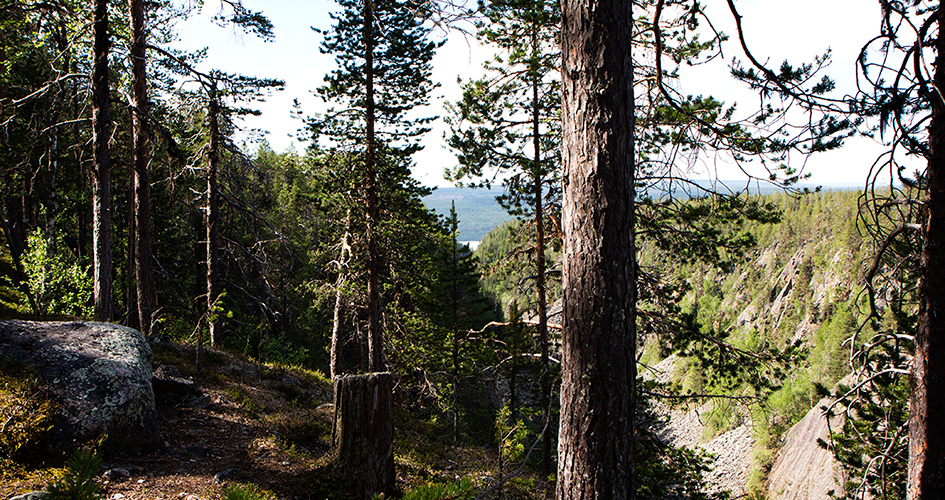 Foto: Laponiatjuottjudus
Geology
When you hike in Muddus/Muttos, you are walking on primitive rock. Millions of years of erosion have created the level terrain.
It is so flat that drainage is poor and water collects in swamps and small lakes.
Glacial water laden with silt ran from the inland ice sheet. Sometimes the ice dammed up the water to create large lakes. The glacial lakes could suddenly discharge their water, giving rise to massive ice rivers that sluiced out deep canyons in the bedrock. Some of them are present here in southern Muddus/Muttos. Many canyons formed as a result of the melting ice sheet.
Today they can be completely dry or contain a small brook. On some mountain slopes there are deep ravines running straight down the slope. The most well-known one in the national park is Måskosgårsså, a spectacular deep, dry valley situated in the middle of a forest. Its name means "the narrow ravine".
Stora Luleälven river, which delineates the national park's southern boundary, lies in a deep valley that has been chiselled out by the wear and tear of many inland ice sheets. Near the river and in certain places along Muttosjåhkå, there are ridge formations with ice river deposits. On the ridges, which are easy to excavate, you can find pitfalls from the time when these traps were used to capture wild reindeer.