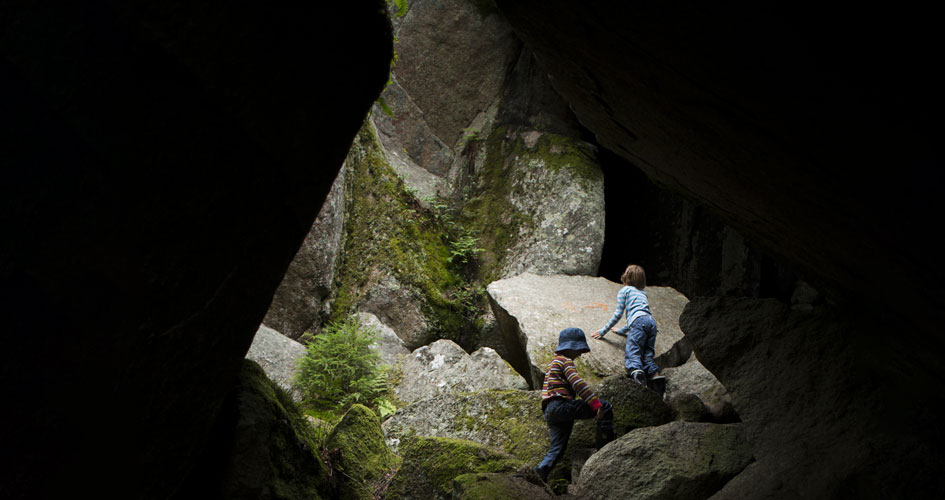 Foto: Fredrik Wilde
Geology
Tiveden rests on granite bedrock. When the earth's crust ruptured and formed Lake Vättern's massive depression (900 to 1,400 million years ago), the rock in Tiveden also broke apart into the diamond-shaped pattern that now is a main feature of the national park's terrain.
In the fractures' bands of crushed rock, there are lakes and bogs. The sections in between, where the rock remained intact, are still in place as steep hills.
The inland ice sheet left its stamp on the landscape
The inland ice sheet, which melted about 11,000 years ago, also set its stamp on the landscape. It broke loose, moving with it boulders that now lie strewn across the rocks. Most of the boulders, including the largest ones, wound up in the rift valleys, however. Enormous boulder groupings, such as those at Stenkälla, formed in many valleys. Almost all of the loose material, except for the large boulders, was flushed away by meltwater into the inland sea, which lay at a lower level. Consequently, the soil cover in the national park is very thin. In many places the rocks are just as exposed as when they emerged from the melting ice. Cavities known as giant's kettles exist in some places. There also are large quantities of volcanic rock here. However, the national park's bedrock, which lies within the Värmland-Småland-granite zone, is characterised entirely by nutrient-poor porphyritic granite.
The climate is colder in Tiveden
The climate in Tiveden National Park diverges sharply from that at Lake Vättern only 5 kilometres to the south-east and Lake Unden in the north-west. There is snow cover inside Tiveden at least 14 days longer than around Vättern and Unden, and normally the national park is covered with snow from mid-November until the first of May. Summer temperatures normally are also somewhat lower than in the surrounding areas, and the amount of precipitation is greater.