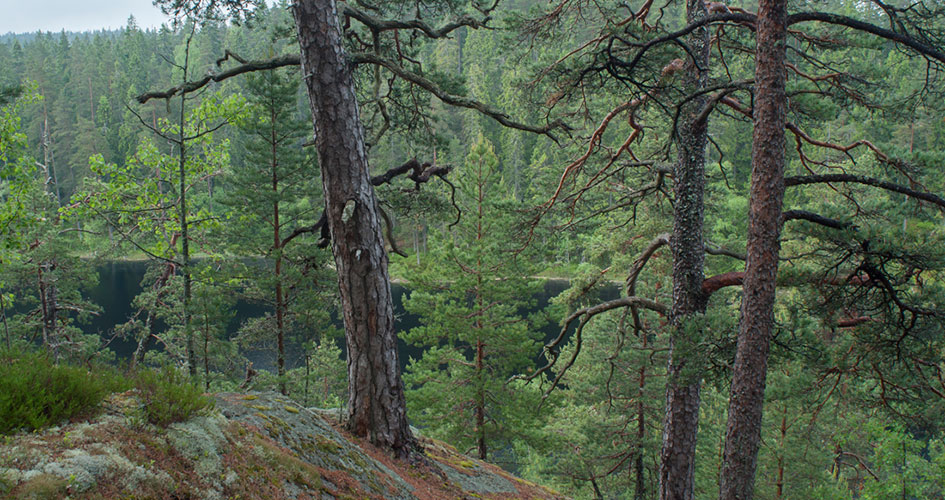 Foto: Fredrik Wilde
Welcome!
Tiveden National Park has an area of 1,352 hectares. It has a total of 25 kilometres of marked hiking trails offering walks of 1.5 to 15 km. The very hilly terrain and abundance of boulders make for stimulating but demanding hiking.
Opening hours at the main entrance
Staffed information will 2023 be located att Huvudentrén during the following times:
April 7 - May 1, Sat-Sun 10.30-14.00
May 6 - June 16, Sat-Sun 10.00-14.30
June 17 - August 13, Mon-Sun 09.30-16.00
August 14 - August 27, Mon-Sun 10.30-15.00
September 2 - September 17, Sat-Sun 10.30-15.00
September 23 - October 15, Sat-Sun 10.30-14.00
Avoid crowded car parks - plan your visit
Some days there are many people visiting the national park at the same time. Keep in mind that the car park at Huvudentrén/Main entrance often get owecrowded during peak summer season (15 June to 15 September). Excpecially between 11 am and 2 pm. During other times of the year, there can be many visitors some weekends when the weather is fine. If you can, please visit the national park during less busy hours. Alternative car park is available at Entrance Vitsand. It is also possible to hike into the national park via trail "Bergslagsleden".