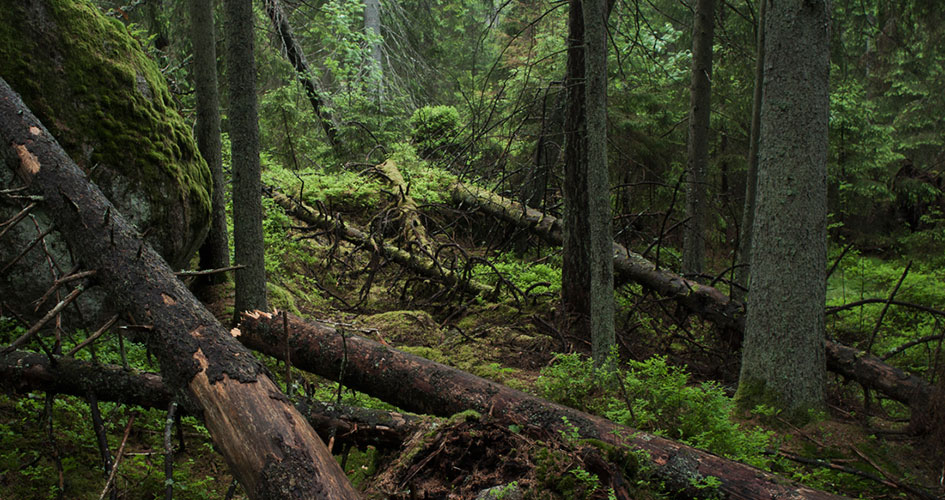 Foto: Fredrik Wilde
History
The national park was formed in 1983, extended 2017 and encompasses 2 030 hectares. The purpose is to preserve a contiguous forest, lake and rift valley landscape in essentially untouched condition and thereby allow the forest to evolve into a primeval forest.
Like most nature areas, the Tiveden area has vague and obscure boundaries. One of the reasons is the location – between Götaland and Svealand and moreover sandwiched between Sweden's two largest lakes, Vänern and Vättern.
The somewhat smaller Skagern and Unden lakes to the west and east respectively eventually came to be regarded as the area's boundaries. To the north was Ramundeboda, where the king was transferred by the West Geats to the people of Närke during the royal ceremonial tour. To the north-east Askersund became a natural termination. The boundary in the south was the most fluid. It extended roughly from the north-west to the south-east, from the southern tip of Skagern via the churches in Hova, Älgarås and Undenäs to Rödesund, where Karlsborg lies today.
Since at least the 17th century, there has been a division into Stora and Lilla Tiveden, names that also came to be used for the crown's land, the so-called "kronoallmänningarna", or crown common land. Stora Tiveden applied to the area between Skagern and Unden. Lilla Tiveden referred to the land between Unden and Vättern. Among the other names for Lilla Tiveden are Gôrtiven, Ettertiven and Urtiven. The national park makes up the central, and also the most inaccessible, part of Lilla Tiveden. Today's national park accounts for about 1% of the huge medieval forest.
In what today is Tiveden National Park, there were three domain reserves that predate the national park, namely Trollkyrka (37 ha), Stenkälla (20 ha) and Tärnekullen (25.5 ha). They came into being in 1937, 1942 and 1955 respectively. The national park was formed in 1983 and was expanded with a new inauguration in 2017.