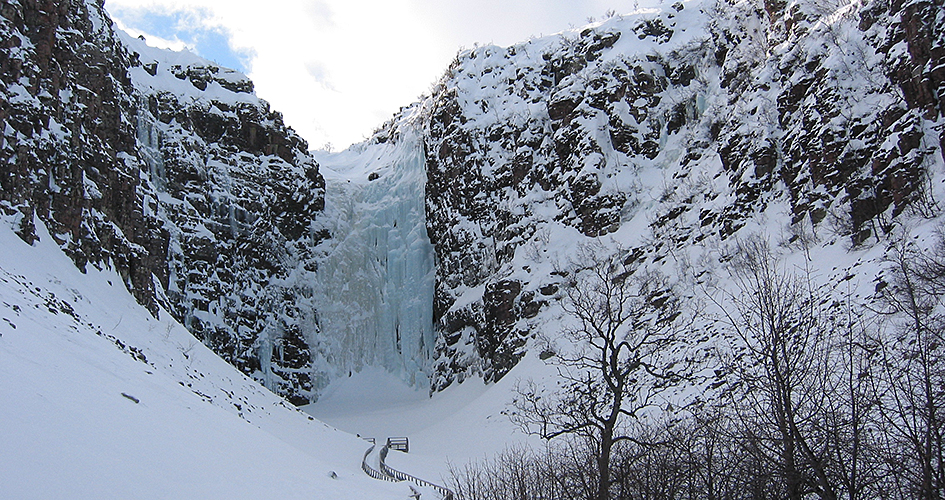 Foto: Fulufjället nationalpark
Ice climbing
From the December 1 until March 31, you are allowed to engage in ice climbing on Njupeskär's frozen waterfall. The rest of the year it is not permitted due to the risk of falling rocks, the risk to birdlife, as well as the risk of damaging nature.
About the activity
During this time you also are allowed to pitch a tent in the car park by the Njupeskär entrance. In December the ice can be a little fragile, so it's best to wait until January/February.
Climbing at Njupeskär requires experience. Practice on smaller waterfalls if you feel unsure. All climbing is done at your own peril.
Some ground rules
The terrain above and at the base of the waterfall are in the risk zone for avalanches, especially the descent area. It is therefore best to go one at a time, preferably with a rope after yourself.
Make sure not to have any unprotected people at the base of the waterfall when someone is climbing.
The waterfall is wide enough for a maximum of two climbing teams at a time.
It is not allowed to have any permanent anchoring in the mountain.
Feel free to contact naturum if you are coming for ice climbing or if you have climbed on Njupeskär. We welcome information and photos.