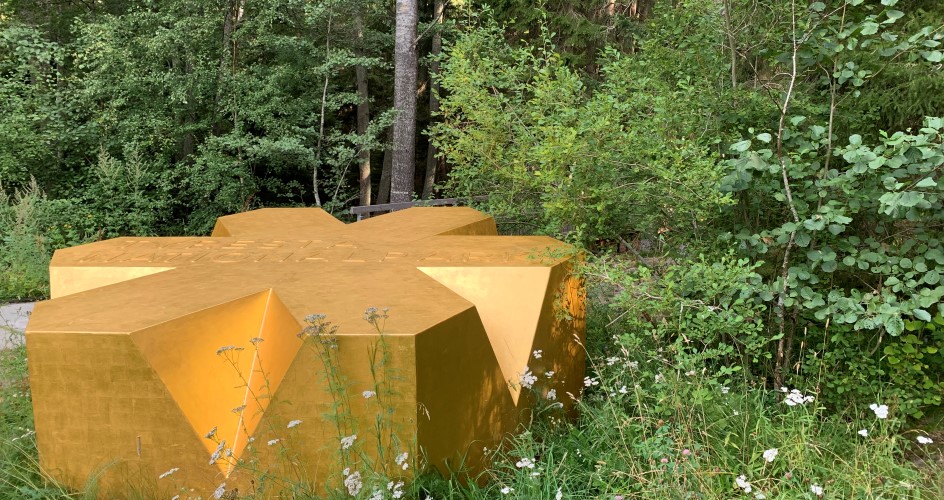 Foto: Stiftelsen Tyrestaskogen
Accessibility
The main entrance at Tyresta is accessible to most visitors, including those in wheelchairs.
Tyresta village —main entrance to Tyresta National Park
The main entrance to the national park and visitor sites in Tyresta village are accessibility adapted. The naturum, Tyresta Farm, the cafe and the nearby fireplaces are accessible to wheelchairs, and near all buildings have wheelchair adapted toilets and parking areas.
From the entrance to the national park, a concrete path stretches across a meadow to the forest edge. From there a wooden boardwalk leads to a small gathering place beside Bylsjöbäcken stream. Here starts Barnvagnsslingan loop (5 km long) which is free of roots and rocks, and thus easy to walk. At some places it is quite steep, especially at the beginning.
Trails, fire and resting places
Barnvagnsslingan loop (5 km long) is fine to go on with a wheelchair, permobile or baby carriage. Due to a steeper section near Tyresta village, the loop is not completely accessible. But the Bylslätt fire and resting place is flat and has plenty of space. A dirt road that is steep in places leads from Barnvagnsslingan loop, up to the southern tip of Årsjön Lake.
The fire and resting place that is best suited for wheelchairs lies on Lycksjövägen road. In the northern section of the nature reserve are several dirt roads. On the Tyresta map, these roads are indicated with reddish brown lines (continuous or broken) and labelled bilväg/sämre bilväg or traktorväg/cykelväg. Via this network of roads, it is comfortable to walk all the way to lakes Långsjön, Stensjön and Lanan. Please observe that there are road barriers which can make it difficult to pass with a wheel chair. For more information please contact the Tyresta Forest Foundation.
Roads in the national park are not ploughed or sanded in winter. Motor vehicles are not allowed.