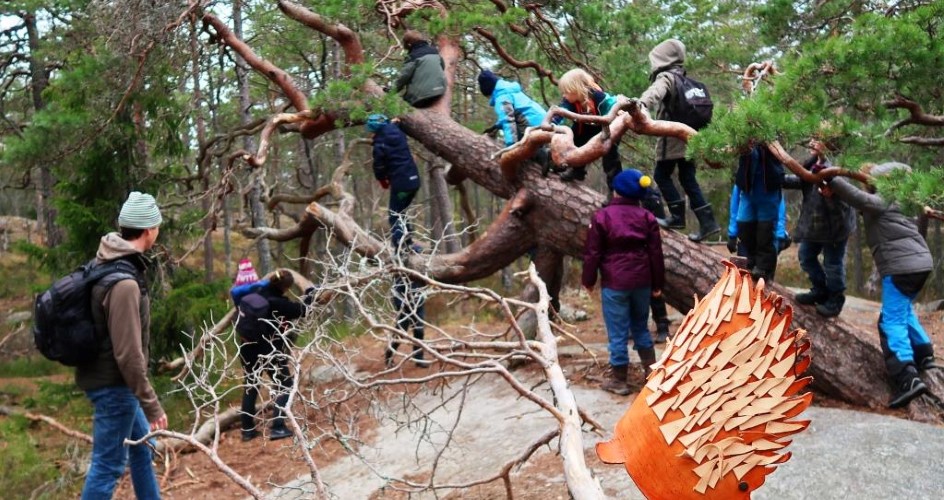 Foto: Lars Hallgren
For schools
Tyresta National Park is a popular visitor destination for schools. Book a guided tour via the nature centre naturum, or discover Tyresta on your own.
Book your own nature interpreter
At the nature centre naturum you can book activities for your school class. We have guided tours of 1–2 hours' duration for different grade levels at the naturum, in the national park and at Tyresta Farm. With younger children we discover the plants and animals of the forest, or learn about the animals of Tyresta Farm. With older grade levels we visit the scene of the 1999 forest fire, or learn about the forest's ecosystem services and protected nature. We gladly adjust the contents of the discussion in dialogue with you. Tyresta's own beekeepers also host school groups during certain times of the year.
Discover Tyresta by yourself
Several trails start at Tyresta village. For school groups we especially recommend three of them: Urskogsstigen trail which is 2.5 km long and has several placards with information about Tyresta and the ancient forest; Tjäderstigen trail, 1 km in length with interactive stations and suggested activities; and Allemansråttans stig, 700 metres, which explains the right of public access and is directed to younger children.
Good to know before a visit
When you visit a national park, it is important to know the most important rules that apply. For example, it is not permitted to pick plants or mark trails with ribbons. Groups of more than 100 individuals must report visits in advance to the naturum. You can read more about the rules that apply at Tyresta here.
Groups are welcome to visit the naturum to see exhibitions and slideshows, as long as a showing for some other group is not in progress. If you plan to visit Tyresta Farm, it is important that students understand that the farm is a workplace where heavy equipment may be in use. A large measure of caution is necessary, and barriers must be respected. At the farm entrances are placards with information for visitors. Show respect and consideration for the animals.
Behind the cafe are two rest cabins and a grilling place. If necessary, food may be taken there with motor vehicles, but we prefer that visitors carry everything they need with them. There are toilets at the naturum, the cafe and Tyresta Farm. If you plan to purchase ice cream and/or other food from the cafe, it is always advisable to contact the cafe in advance if your group is more than 20 people.
Busses depart once per hour during the day. All are welcome to use the Stockholm public transport (SL) travel planner at https://sl.se/en, with Tyresta as the destination. There are many visitors to Tyresta during May and September, and busses can quickly become full. It is therefore advisable to contact SL for current information, especially during those months: tel. 08 600 10 00.