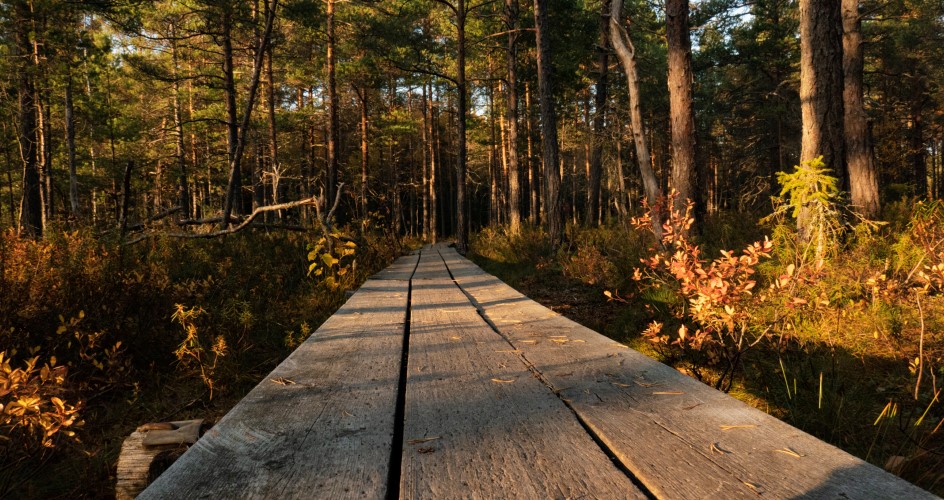 Foto: Bertil Björklund
Entrances & trails
The main entrance to Tyresta National Park is at Tyresta village, in the southern section of the park. There are also entrances in the north, west and east that lead into Tyresta's forest. Here are some tips on the most popular trails and which entrance is most appropriate for each.
IMPORTANT INFORMATION: During 2023 all signs, trail markings and information boards are updated.
Main entrance Tyresta village
Tyresta village lies in the Municipality of Haninge. Located here is the nature centre naturum, also called National Parks House, where you can buy maps and get information about the park. Also in the village are a café and Tyresta Farm, a model farm with old native breeds, along with a bird tower and adventure trails for children. The main entrance is accessible to wheelchairs and is served by public transport.
The village is the starting point for several trails of different lengths:
Urskogsstigen trail, 2.5 km. Green markings. Hilly trail with information signs. Perfect for those who want to begin the day's hiking with an introduction to Tyresta's ancient forest, or seek a shorter walk.
Bylsjöpromenaden walk, 5 km. Red markings. An easy stroll without stones or tree roots which circles Bylsjön Lake. Perfect for baby carriages and for quick walks. Okay for wheelchairs, but a steep hill at the start. Fire and resting places at Bylslätt and Bylsjön lake. A long the walk you will see several smaller areas whit cut down spruce trees in order to reduce the risk of trees falling over the trail. The trees have been affacted by the spruce bark beetle in 2021.

Tyrestarundan circuit

, 14 km.

Purple markings. Popular hike perfect for one day. The circuit takes you to three lakes, crossing the burned area from 1999. The fissure valley landscape at its best!!
Hällmarksstigen trail 2,5 km. Red/white markings. Beautiful trail, where the sun's rays find their way down through the sparse pine forest. The trail is bordered by old stone mounds and knotty old pines. Fire and resting place at Bylslätt.
Sörmlandsleden trail, section 3: Tyresta village – Nyfors, 11 km. Orange markings. Passes lakes Bylsjön and Årsjön, where there are pleasant fire and resting places. The trail leads alternately through old spruce forest and pine forest with rocky outcrops. In the northern sections there are broad-leaved trees and younger forest. Natural coldwater springs at the boundary between Tyresta National Park and Nature Reserve. The fire and resting place at Årsjön lake is a fine partial objective. There are public transport connections at both Tyresta village and Nyfors.
Stensjödal entrance
Large parking area, including places for chartered buses, at the national park's eastern boundary. From here, easy access to the tenting area at Stensjödal and Mjölnarbostaden (which large groups can hire), and also to Lanan lake where you can pick up the Fornborgsslingan loop.
Fornborgsrundan loop, 6 km.

Black markings. A fairly demanding hike on a path that passes through hilly terrain with several steep slopes, partly across the area of a forest fire in 1999. Be sure to climb up on the remains of the prehistoric fortress from which there is a magnificent view over Stensjön Lake. There are fire and resting places at lakes Lanan and Stensjön. Fresh water and outdoor toilets at Stensjödal tenting area.
Brakmaren entrance
Northern entrance, Tyresö. Perfect for those who want to walk the Storskogsrundan trail to visit Långsjön lake and Stensjön lake in the national park. Please note the parking area is small.
Also nearby is the small but beautiful Hammarberget Nature Reserve.
Storskogsrundan trail, 8 km. White markings. This trail combines forest paths with easily walked roads, and passes two of the national park's larger lakes. Wonderful ancient forest and open farm landscape at Gammelmyra. Fire and resting places at lakes Långsjön and Stensjön. Along the shore of Mörtsjön the passage is a bit tricky due to fallen trees.
Åvaviken entrance
Entrance in the east, next to the Baltic Sea. Enjoy the small Åvaån river which is an important water for several fish species, for example the trout.
Kustleden trail, 7 km. Orange markings between Åvaviken bay and Brakmaren entrance. Kustleden winds through cultural landscape with oaktrees and shore line meadows. In the spring it is a fantastic place for orchids. In the forest you find fire and resting places at Luraström channel and Lillström's swamp. Don´t miss the small nature reserve Hammarberget!
Styvnäsrundan trail 6 km. Yellow markings. From Åvaviken out toward the Styvnäset headland there is a fine view of Stockholm's inner archipelago. The marked trail's destination is Styvnäset, the site of a boatman's cabin from the 1700s. Here there is a fire and resting place, an outdoor toilet and fresh water — and perhaps a lovely swim in the Baltic Sea awaits. New trail markings are in place during 2023 but there is still some work to be done and some passages of the trail can be a bit difficult to walk.
Nyfors entrance
A historic place in Tyresö, in the northern part of the nature reserve. At Nyfors, water flows from Tyresö-Flaten Lake into Albysjön Lake. By the rapids is an industrial heritage site with the remains of various enterprises. Around the lakes are excellent bathing cliffs that are also popular locations for paddling, fishing and ice-skating. The Sörmlandsleden Trail passes nearby, leading south into Tyresta National Park, north toward Alby nature reserve and on toward Björkhagen. At Nyfors there are public transport connections. Reach Tyresta nature reserve via Nyfors or Alby nature reserve. A beatiful bridge connect Alby with Tyresta and was built 2023
Sörmlandsleden trail, section 3: Nyfors – Tyresta village, 11 km

. Orange markings (with an S). The first part of this trail passes through somewhat younger forest with broad-leaved trees. After ca. 3 km it passes the boundary to the national park where there is a natural cold-water spring. The trail goes alternately through old spruce forest and rocky pine forest, and passes two splendid lakes, Årsjön and Bylsjön. There are connections to public transport at both Nyfors and Tyresta village.
Sjöleden trail, 16 km. Blue markings. A trail for 1-2 days between Alby and Sandemar across the Tyresta area. Gravel roads, small winding paths, through open land and dense forest via a chain of small waters and lakes. By the lakes you can put up your tent at designated areas for camping. Drinking water at camping area Stensjödal and Åvaviken entrance. Public transport at both trail heads/ends.

Pilgrimsleden trail, 11.5 km

. This trail lies partly within Tyresta Nature Reserve, but outside of the national park. It begins and ends near Pilgrimscentrum near Tyresö Church and winds its way past Nyfors, around Albysjön lake. A pilgrims' trail with seven meditation posts.
Fore more information please check out the site about rest, eat and stay.