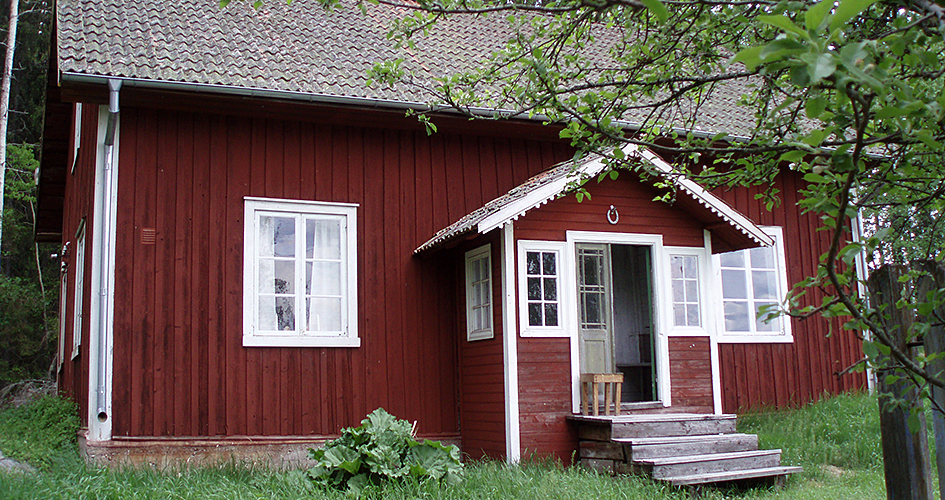 Foto: Länsstyrelsen Gävleborg
Rent a cabin in Färnebofjärden
There are two cottages to rent in Färnebofjärden National Park, Torrö cottage and Stad-Arvid cottage. Both cottages are located in the Tyttbo-area, in the west part of the National Park. Torrö cottage is located on the Torrö island, a short rowing trip across the Dalälven river, while the Stad-Arvid cottage is located on the mainland.
About the activity
On the shore of Dalälven in Färnebofjärden National Park, you´ll find two red cottages that you can rent during the summer. You can spend a few days or a week here living simply, with nature, the river and wildlife right around the corner.
There is no electricity or drinking water in the cottages, but you will find plenty of water in the Dalälven river for washing dishes and bathing. You get heat from a wood fire and prepare food on a wood stove. You enjoy your evening reading by candlelight.
Torrö cottage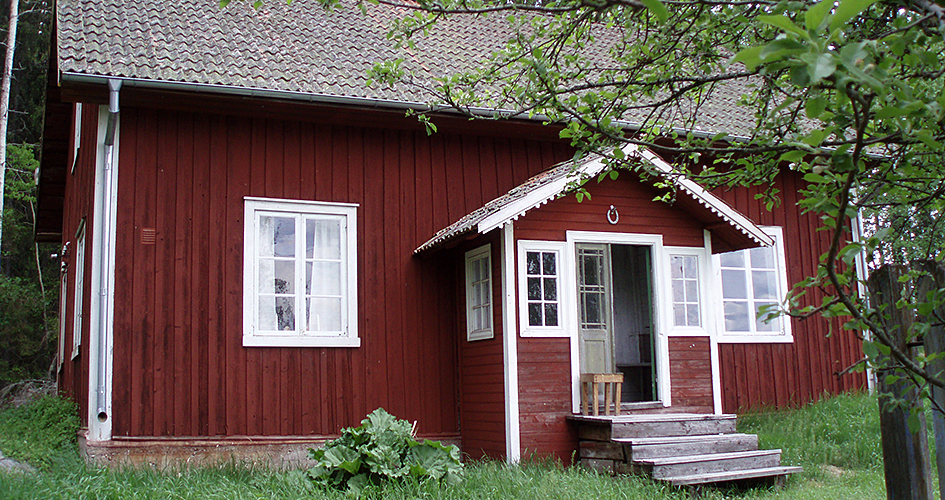 The cottage is a two storey house with a spacious kitchen, small hall, two smaller bedrooms downstairs, two smaller bedrooms upstairs as well as a large day room in the cellar.
Total number of beds: 6.
The standards are basic.
Rowing boat (max 3 adults in the boat) and 3 adult life jackets for transport to Torrön is included in the hire.
Stad-Arvid cottage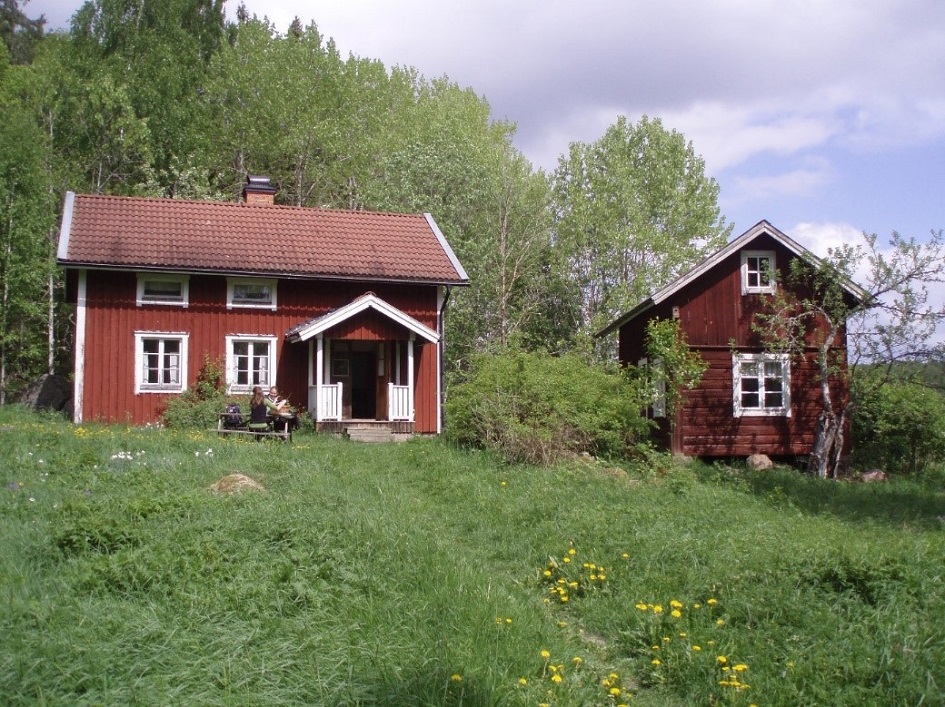 Stad-Arvid cottage is located on the mainland, next to the river Dalälven, in the western part of the National Park. The cottage is a two storey house with a spacious kitchen for 8 persons, small hall, a smaller day room downstairs and a combined bed and day room bedrooms upstairs.
Total number of beds in the cottage: 6. There are an additional 2 beds in the little cottage next to the main building. So totally 8 beds.
The standards are basic.
Booking and prices
Monday to Wednesday: SEK 2000
Thursday to Sunday: SEK 2900
Monday to Sunday: SEK 3900

Booking of Torrö cottage or Stad-Arvid cottage: send a request to farnebofjarden@lansstyrelsen.se


Keys: Collect them at the key box at Stadarna (near the jetty), code for the box is available via text message before arrival. Spare keys are available at Hovnäs ferry.
Cleaning: The guest leaves the cottage in a tidy condition. Cleaning instructions and cleaning materials are available in the cottage. Fee for neglect of cleaning is SEK 1,000.
Self-catering: Equipment for self-catering is available, such as pots, pans and crockery for 6 persons in Torrö cottage, and for 8 persons in Stad-Arvid cottage. You bring all consumables yourself, such as kitchen and toilet paper, dishes / cleaning products, dish brush, dishcloths and towels.
Cooking: Cooking takes place on a wood stove. Cold cellar available.
Drinking water: Bring your own drinking water. Water for washing and washing / bathing can be taken from the river.
Heating: No electricity. Wood stove and firewood are available. The key to the woodshed hangs on a hook in the foyer.
Lighting: Candlesticks are available. Bring tealights and matches.
Toilet: Outdoor toilet available. Bring your own toilet paper.
Barbecue: Available in the shed. Bring charcoal and lighter fluid.
Bed linen: Blankets and pillows are available. Own sheets, duvet covers and pillowcases must be brought and used! Sleeping bag may be used with bed sheets.
Parking: Car parking is possible on the turning area at the end of the road, at Stadarna.
Mosquitoes: There can be a lot of mosquitoes in the area. Bring mosquito repellent and mosquito repellent.
Pets: Are welcome in the cottages, but not in the beds!
Smoking is not allowed in the cottages.
During the stay:
You are in a national park and must follow the rules that apply to it. You will find them in the cottages, where there are also maps and other information material.
Next to Stadarna, cows graze. It is not allowed to feed them, but feel free to talk to them. Let nature know if something breaks so that we can replace it as soon as possible.
A canoe and 2 life vests is available for the guests of Stad-Arvid cottage.
Shops/post office:
In By, 20 km from Stadarna, there is "Dalälvens bensin & handel", a complete gas station with a wide range of food. In Horndal, 26 km from Stadarna, and in Österfärnebo, 32 km from Stadarna, there are larger shops. All of these stores also handles pharmacy and post office errends.
On departure:
Make sure all fires are extinguished.
Make sure that the cottage is cleaned according to instructions.
Bring rubbish and empty bottles. You pass a rubbish bin for combustible material at Balforsen, just under 1 km from Stadarna. It is located at the gas station in By. Thank you for thinking about the environment!
Directions:
From the south you will get to Stadarna and Torrön either via Uppsala-Gysinge or via Västerås / Enköping-Sala. From Gysinge you will go north of Färnebofjärden via Österfärnebo-Bärrek-Hovnäs. From Sala via highway 70 north to Broddbo and then via Möklinta to Hovnäs ferry (1 May-30 Oct) or the bridge over the river at Näs mill and then the road north of the river to Hovnäs (other times of the year). From Hovnäs you go east parallel to the river until the road ends at a turning point. Here you park and then have about 100 m walk east to Stadarna, or 50 m walk straight to the boat that takes you to Torrön.
For directions, search on Stadarna.
Welcome!
Remember to bring:
Life jackets if you are renting Torrö cottage (3 adult vests available)
Sheets and duvet covers (or sleeping bag) and pillowcases
Tealights
Matches
Drinking water
Consumables, such as kitchen and toilet paper, dishes / cleaning products, dish brush, distraction, towel and garbage bags.
Mosquito repellent and mosquito repellent
Charcoal and lighter fluid if you want to grill
Activities, boating and fishing
Hiking trails
There are no hiking trails on Torrön, but you find one trail in the Tyttbo-are, and several more in the other parts of the National Park.
Fishing license
To rent a motorboat, boat and canoe, contact:
Tyttbo camping: +46 (0) 70-282 62 31
East campsite: +46 (0) 292-430 04, +46 (0) 70-212 90 23
Avesta Canoe Center: +46 (0) 72 54 00 843
Trelänsleden: +46 (0) 72-2273050
Recommended places to visit:
The lookout tower in Skekarsbo, an approximately 20 meters high tower with a view of the Dalälven bay.
Sandön, an island with beaches in the middle of the bay, with rest area and fireplaces.
Naturum Färnebofjärden in Gysinge, a visitor center to Färnebofjärden National Park, with an exhibition and activities.
The main entrance of the National Park at Mattön, 3 km south east of Gysinge. Here you find several walking trails.
The Tinäs-area, in the south western part of the National Park. Here you can do longer hikings than in other parts of the National Park.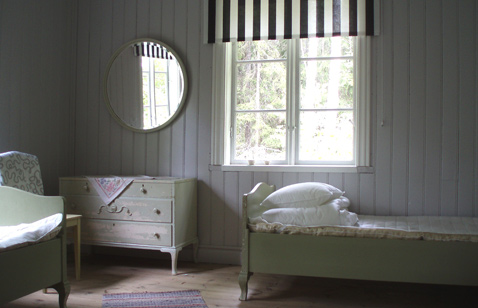 Equipment
The standard of the cabin is basic (bring own equipment). You find wood and DC outside the cabin (bring your own toilet paper).