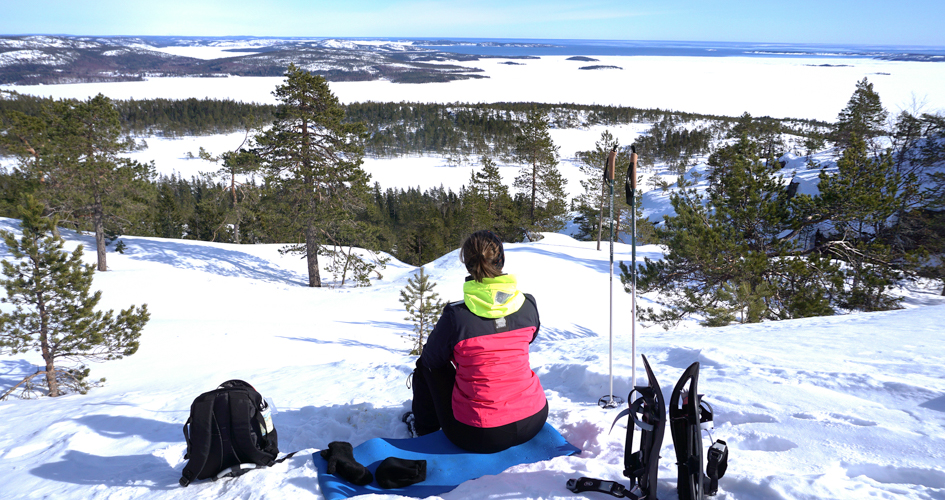 Foto: Johanna Öhrling
Winter
Winter is a nice time to visit Skuleskogen, but keep in mind that you need to be more prepared and bring more clothes and gear than in summertime.
Hike in snow?
There is usually a lot of snow in the High Coast area during winter, but it varies a lot between different winters and parts of one winter. A normal winter you will also find that there is a large different in amount of snow at the coast and a few kilometers inland. It might be a meter of snow at the west entrance but barely any snow at the south entrance, because of the differences in proximity to the sea and altitide.
Things to keep in mind when hiking in Skuleskogen at winter:
You will probably need snow shoes or skies to travel in the national park. No trails are cleared of snow and there are no ski tracks. At the most popular trails where many people hike it might be possible to walk in other peoples foot tracks, but it is not something you can count on.
The terrain is steep and rocky in most of the park and it might be challenging on skies. Snow shoes are usually preferable.
All the trails are summer trail. This means that they are much more difficult to follow when the landscape is covered with snow. Make sure to bring a map and be prepared to navigate on your own.
All hikes in the national park takes much longer time in winter than in summer. Make sure you have plenty of time.
The sea ice can be very thick some winters and easily carry a skier, but some winters it is not and it might be dangerous to go out on the ice.
If you have questions about the current snow conditions you can contact the visitor center of naturum High Coast.
You can also join the facebook group linked below for current updates on snow conditions, which entrances are cleared of snow and the conditions out on the trails.
Spend the night in Skuleskogen in winter
The overnight cabins are open all year round but keep in mind that the standard is simple. It often takes time to heat up the cabin by firing in the wood stove, and it will get cold during the night. Make sure you bring a warm sleeping bag and warm clothes.
Read more about the cabins in Skuleskogen in the link below.
Other things to keep in mind
When the water in streams and lakes are frozen in winter there is no place to find fresh water. You have to be prepared to melt snow or bring all water with you.
The days are short in the north of Sweden during winter. Do not plan any long hikes if you are out during the dark period of the winter. And always bring a head torch!
Look up which entrances that are cleared of snow, it can vary between winters.
Even the roads and entrances to the national park that are cleared of snow, can be completely blocked if a lot of snow falls during a short period of time. In challenging snow conditions it takes time to clear all the snow. You are best off avoiding going to the national park if such conditions are predicted on the weather forecast.
The national park management transports fire wood to the cabins by snow mobile during winter. This is done using special snow mobile tracks that no other snow mobiles are allowed to use. As a visitor on skies or snow shoes you are welcome to follow these tracks, but make sure to step aside if a snow mobile comes. (There is a general ban of snow mobiles in the national park, except on the sea ice.)