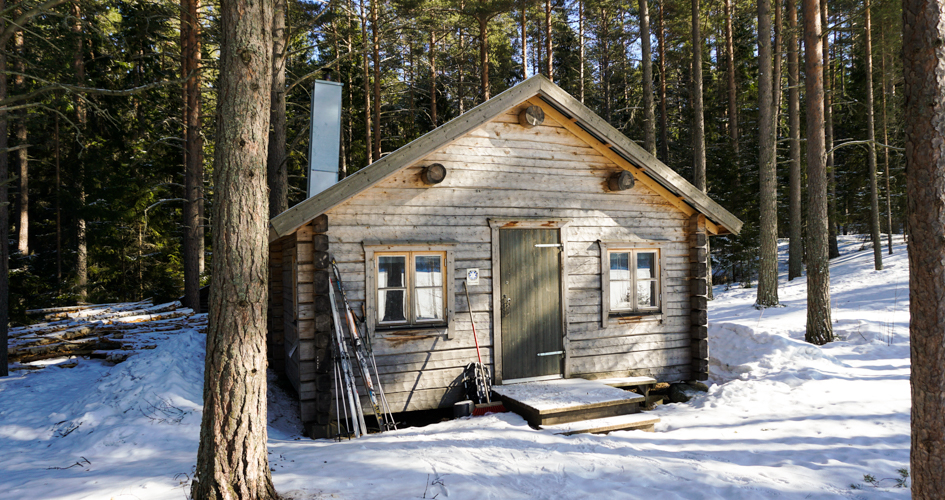 Foto: Johanna Öhrling
Cabins, tent and other accommodations
In the national park there are seven open cabins for staying the night. They are open all year around, no fee and cannot be booked. Keep in mind that the standard is simple and if more people arrive you have to share.
Overnight cabins
The seven overnight cabins in Skuleskogen are open for everyone all year round and cannot be booked. The standard is simple with wooden benches, mattresses, a wood stove, a table and chairs.
Keep this in mind when staying in one of the cabins:
Bring your own sleeping bag, pillow, cookware and utensils.
The cabins are open for everyone and if more guests arrive you have to share. Guests who have already slept one night have to give up the beds if new guests arrive. A maximun of two nights per guest is allowed.
Dogs are under no circumstances allowed in the beds!
The wood stove does its job to heat up the cabin but it is very slow to cook on. It is therefore a good idea to bring a camping stove for cooking. But use it wisely indoors.
The newer cabins are much easier to heat up and keep warm, and might therefore be a better choice during winter. These are: Skrattabborrtjärn, Näskebodarna and the larger cabin at Tärnättholmen.
Fire wood is supplied by the park management and is stored at the wood shed close to the cabin. You have to chop it yourself. Refill the wood basket inside the cabin before you leave so that new guests will have dry wood to start a fire with.
All guests are expected to tidy up after themselves and bring all rubbish with them. There is no cleaning service. Everyone should leave the cabin the way they would want to find it themselves.
Leave no food! This can attract rodents and will be unpleased for all.
You can read more about the different cabins at the link below.
Tent
During the period of 1 May - 30 September tents are only allowed at designated tent areas. You can see these tent areas marked with yellow dots on the map in the link below. Tent areas are found in the proximity of all cabins, and close to the beaches of Kälsviken and Salsviken.
Accommodations outside the park
There are several accommodations available outside the national park. In the villages of Docksta, Ullånger, Köpmanholmen, Bjästa, Skoved och Kornsjö you will find different options such as camp sites, Bed & Breakfast, hostels, hotels and cabins for rent. In Docksta you have several camp sites for caravans and campers.
The different options for accommodation can be found at the general web page of the High Coast in the link below.