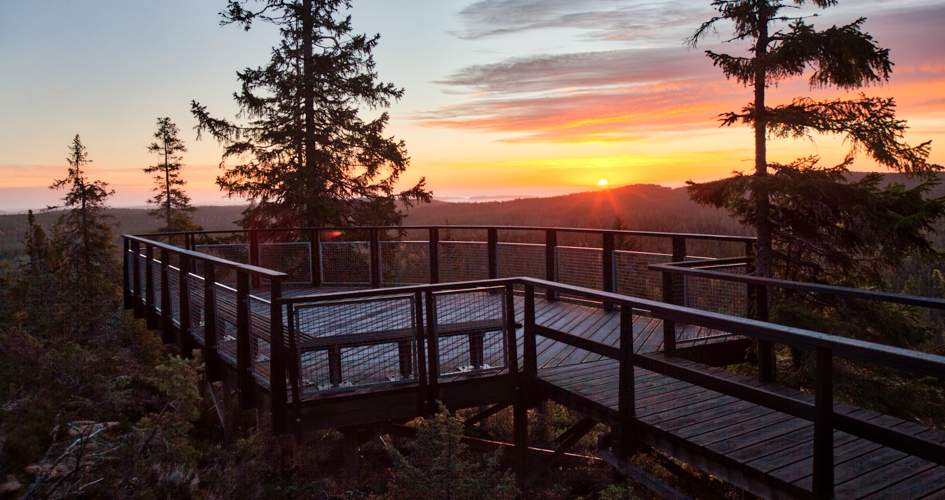 Foto: Fabiola de Graaf
Accessibility
The three entrances to the national park are adapted to provide access for visitors with certain disabilities. Next to the entrances there are composting toilets adapted for wheelchairs, information and the possibility to sit down under a roof.
At the west and north entrances there are wheelchair-adapted walking paths to an information deck with a fire place, benches and a roof. At the west entrance the wheelchair-adapted walking path continues for approximately 600-meters to an observation platform with great view over the national park. This is a great place to visit for everyone who has limited mobility but still wants to experience the beautiful forests and vast views of Skuleskogen.
At the south entrance visitors in wheelchairs or others with limited mobility will be able to drive further down towards Kälsviken cove to a car park with two parking places. This is a special parking lot for those with a permit for disabled. The key to the road can be collected at the High Coast Naturum visitor centre. The walking path down to the beautiful bay of Kälsviken has been adapted for disabled, and it has wind shelters, fire place and a wheelchair-adapeted composting toilet.
Please observe that the entry roads and parking lots are cleared of snow during winter, but no trails or paths are. This means that the paths adapted for disabled are not accessible when it is snow.