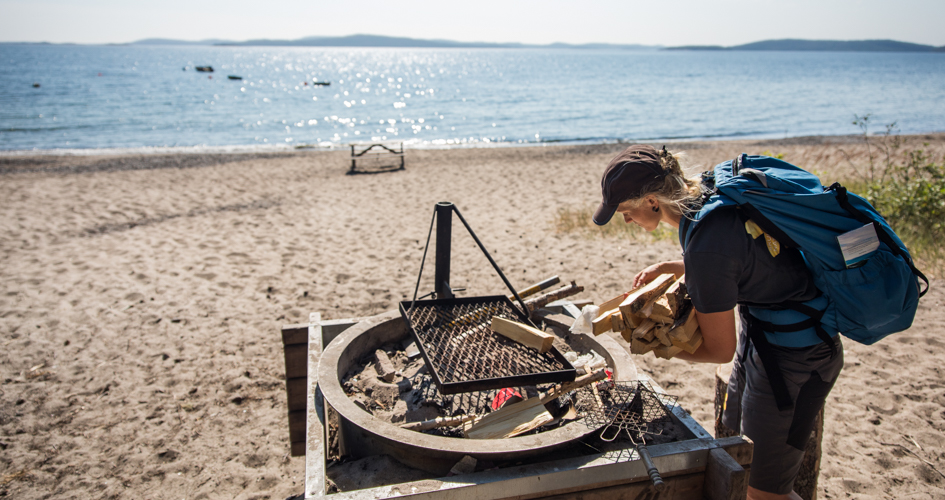 Foto: Erik Engelro
Services in the park
In the national park you will find designated tent spots, fire places and composting toilets. There are however no places to buy food or fill up water. All food and drink must be brought with you when you visit the park.
The entrances
At the three entrances to the national park there are wheelchair-adapted toilets, benches, information and bins for leaving your garbage.
Food and water
There are no places to buy food or refill water at the entrances of the national park or inside the park!
Make sure you are prepared before arriving to the national park. At the High Coast Naturum visitor centre you can refill your water bottles and buy food. Other places for resupplies are in the communities of Docksta, Bjästa and Köpmanholmen. During the period of September to May some places may be closed. Look it up before you arrive.
The only water sources in Skuleskogen are running streams. These are not tested but many people drink it without problems. If you want to be sure you can bring water with you or boil it. During dry summers some of the streams might be empty.
To see where these streams are located and which streams might dry out during summer visit Naturkartan in the link below.
Fire places
At the north and west entrance there are fire places with grill grates and provided fire wood.
At the south entrance there are only benches, but in the nearby Kälsviken you can find fire places. Here is also a toilet and wind shelter adapted for wheelchairs.
At the cabin sites in the national park there are fire places with grill grates and supplied fire wood. The wind shelters also has fire places, except the wind shelter on Långtjärnshällorna. On the north side of Kälsviken at the designated tent spot there are also two fire places and a wood shed.
Keep in mind
Making a fire in the national park is only allowed in the designated fire places during the period of 1 May - 30 September.
According to the national park rules it is not allowed to break branches, fell trees or even pick dead branches from the ground to use to make a fire. Use only the fire wood supplied by the park management or bring your own fire wood.
Dry summers there might be a regional fire ban. This also applies to the national park.
On the map below you can see where the fire places are located.
Cabins
In Skuleskogen there are several cabins for staying the night. They are always open, for free and cannot be booked. At the cabin sites you will find fire places, composting toilettes, wood sheds and benches.
Read more about the different ways of staying the night on the link below.