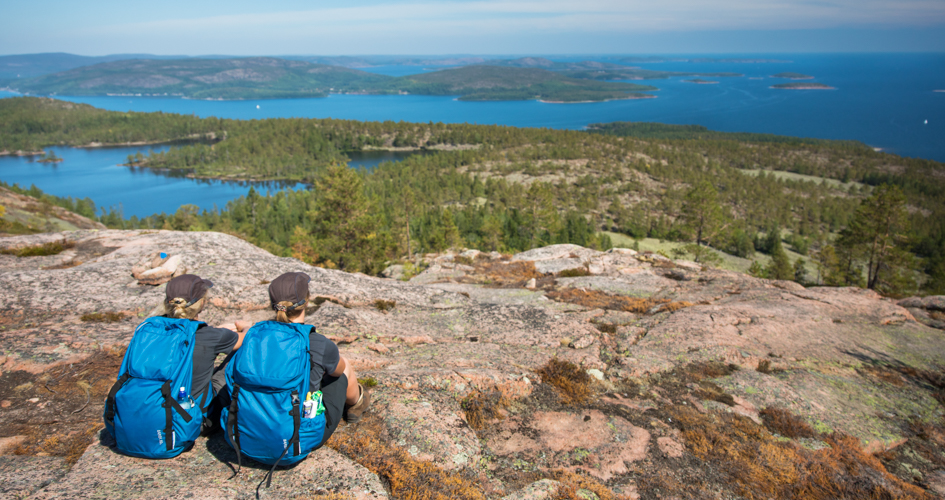 Foto: Erik Engelro
Safety and rules
The national park of Skuleskogen is a large, hilly forest area where mobile reception often works poorly. The strenuous and rocky terrain can be challenging for both humans and their four-legged companions. An other thing to keep in mind is that the national park has special rules when it comes to making a fire and pitching a tent etc.
Safety
The difficult terrain in Skuleskogen can prove challenging. Please keep this in mind when visiting the national park:
There is not mobile reception in the whole park. Do not count on reception (and internet) to work. This includes the area around the south entrance.
The terrain is demanding even for experienced hikers. It is steep, rocky and very uneven. Small children might have to be carried. Use plenty of time, wear sturdy shoes and bring plenty of water.
The coastal path between the south and north entrance is an easier option than the other trails in the park, more suited for hiking with children and dogs.
The trail between Tärnättvattnet and Tärnättholmarna (via the cave) is the most difficult trail in the park. It is VERY steep and not suitable for going down. Avoid in wet weather (very slippery) and if you are hiking with children or dogs.
Bring water! There are no water at the entrances. In the forest you can take water from streams, but it might be difficult to find if it is a dry summer.
Hiking with a dog
In Skuleskogen all dogs must be on a leash at all times. It does not matter how well-behaved your dog is, the rules apply to everyone.
In warm temperatures during summer we (the park management) often encounter dogs that are overheated and dehydrated. Their owners did not predict how difficult the hike would be for the dog and did not bring enough water. Do not be that person!
Do not hike with a dog in the middle of the day during warm days.
Bring plenty of water.
Avoid the most strenuous trails or you might have to carry your dog.
Rules
In national parks there are special rules to follow. In Skuleskogen national park you are not allowed to:
Build a fire anywhere except on specially designated places from May 1 to September 30. You may only burn wood you have brought or that is furnished.
Pitch a tent anywhere except on specially designated places for a maximum of three nights in the same place from May 1 to September 30. Camping for more than three nights in the same place requires permission from the county administrative board.
Operate a motor vehicle. However, snowmobiles may be operated on the sea ice within the national park in order to pass the coastal section concerned and to reach a fishing place on the sea ice.
Operate jet-skis.
Destroy or damage permanent natural objects or surface formations
Fish in lakes, tarns and watercourses.
Climb trees containing nests, collect insects or otherwise consciously harm or disturb wildlife.
Land aircraft.
Bring a dog into the national park that is not on a leash.
Ride horses without permission from the county administrative board.
Bicycle anywhere except on the coastal path between the South and North Entrances.
Dig up plants or pick mosses, lichen and wood-living fungi.
Fell or in any other way damage living or dead trees and shrubs.
Conduct scientific studies, competitions, camping or other major or recurring organised events without permission from the county administrative board.