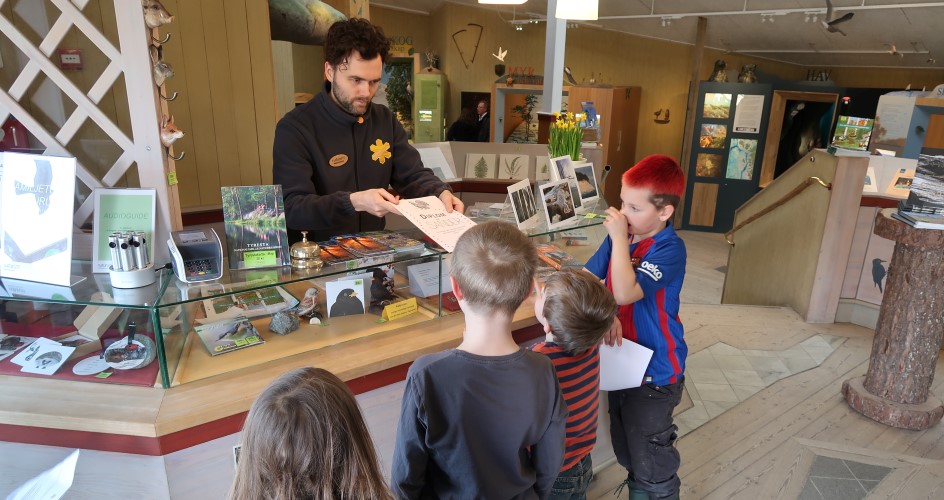 Foto: Lars Hallgren
Inspiration and knowledge at the visitor centre naturum
There is an excellent exhibition on Sweden's national parks in the visitor centre naturum. The building lies a stone's throw from the parking area and bus station, and looks out over the fields at Tyresta. Free entry.
About the activity
The naturum's modern architecture differs from that in the rest of Tyresta village. The building is shaped like a map of Sweden, and the exhibition consists of dioramas of miniature landscapes that take you from rustling broad-leaved forests in the south to majestic mountain ranges in the north. If you listen carefully you can hear nature's own sounds; and behind the shutters you can learn more about the plants and animals. Note the stones set in the floor which represent Sweden's largest lakes.
In the book corner you can acquire further knowledge by a crackling fire, or read a story to your child. The staff will gladly start a slideshow on the national parks of Sweden if you ask, available in English and German. There is also an audio guide in English and German for free.
The shop has a good assortment of books on Swedish nature for those who want to learn more. The naturum is accessible to wheelchairs.
The naturum welcomes the entire family all year long. There are shutters everywhere with little secrets to discover. Behind some shutters you can stick in your "paws" and feel creepy things. Watch out for the stone hanging from the ceiling.…
Location
naturum, Tyresta by 1