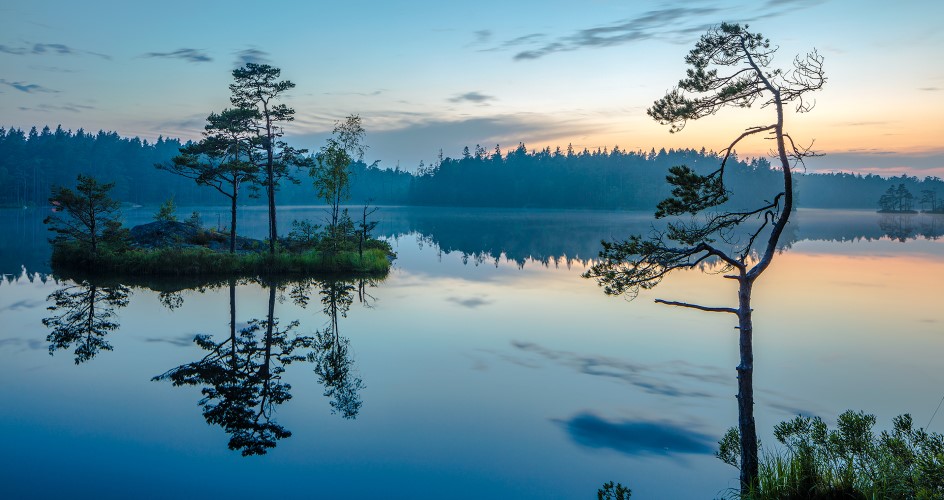 Foto: Charl Mellin
Quiet forest lakes at twilight
Tyresta's various lakes and ponds offer perhaps the finest viewpoints. To sit at dusk on one of Årsjön Lake's rock ledges can be a magical experience.
About the activity
Most of the lakes have clear, nutrient-poor waters and rocky shorelines. Here it is pleasant to cool tired hiking feet or take a swim among the water lilies. At all the lakes there are prepared fireplaces, and at some there are also wind shelters. To gaze out over the quiet waters of Årsjön Lake and maybe hear the Arctic loon's ghostly call through the mist can be magical. According to a legend, a black-and-white horse named Ålsjöbläsen once lived here. Could that have been the Arctic loon, with its black-white plumage?
From the following entrances you can get to the lakes in less than an hour:
Tyresta village to Årsjön Lake, 3.5 km
Tyresta village to Bylsjön Lake, 2 km
Stensjödal to Lanan Lake, 1 km
Storängen to Långsjön Lake, 2 km
Mörkdalen to Stensjön, 2.5 km
Bring along something to eat, and don't forget a flashlight if it will be dark when you return. Fishing is not allowed in the lakes, and fires are only permitted at the fireplaces marked on the map.
Location
Bylsjön, Årsjön, Långsjön, Stensjön, Lanan