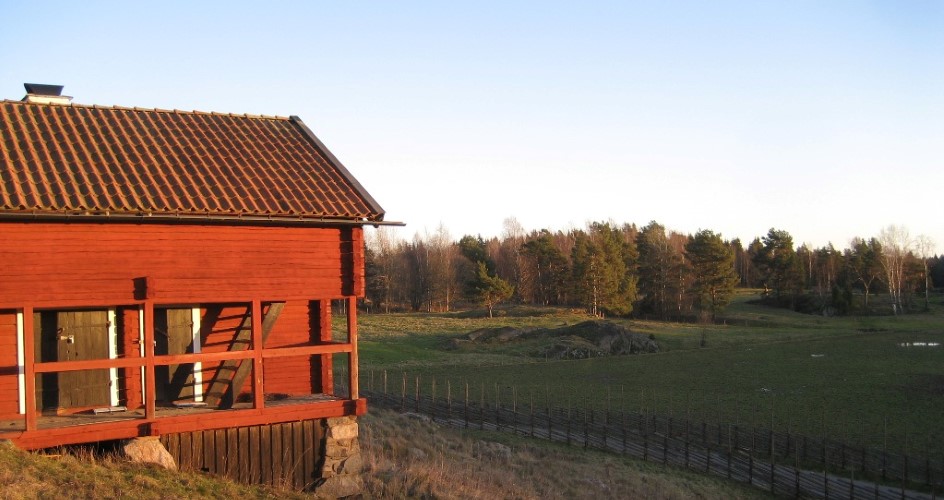 Foto: Stiftelsen Tyrestaskogen
Tyresta village — with history dating from the 1700s
Dirt roads, red farm buildings, grazing animals and old-fashion fences in a traditional landscape many hundreds of years old. Tyresta village is a living memory from a time when Sweden's population consisted largely of small farmers. Today, the village is the main entrance to Tyresta National Park and is the starting point for several trails.
About the activity
During summer the fields and meadows are filled with a variety of herbs and insects.
Grown on the cropland are grains that are primarily used for fodder. Along the forest edge, sheep and cows from Tyresta Farm can be seen. These lands contrast sharply with the wilderness character of the ancient forest. Here, nature has been shaped by humans and grazing animals for many centuries.
Some of the buildings date from the 1700s. Most remain in their original locations. The village road winds among fences that were previously intended to keep grazing animals away from cropland.
Here there are also graves from the Iron Age that are traces of the first resident population. A man named Farbjörn from the Viking Age had a greeting carved which remains for us to read a thousand years later: "Farbjörn had this stone carved in memory of Håulv. His son Halfdan carved the runes."
Things to do in Tyresta village
Eat home-baked goods at the cafe, grill lamb sausage at the village shop, watch birds from the bird tower, visit one of Sweden's finest naturums, enjoy the open landscape.
Also in Tyresta are Wendla's handwork studio, Marie's yoga studio and Haninge Outdoor Association.