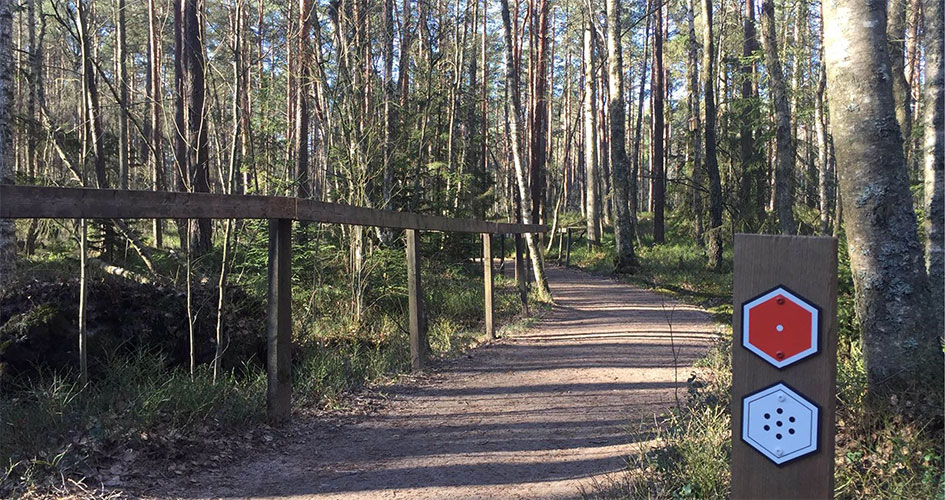 Foto: Länsstyrelsen Jönköping
Accessibility
Parking
At the main entrance and car park by naturum, the entire area is accessible by wheelchairs and prams. At the car park there is an compost toilet adapted for wheelchairs. The whole area around the main entrance and naturum is accessible to wheelchairs.
Visitors whose mobility is impaired may park in the staff car park. Follow the gravel road by the open gate next to the flag poles. This road is closed when the staff isnt there. So, only use this parking lot when the naturum is open.
Coordinates to parking places (SWEREF 99):
Naturum
N 6351304,46, E 435485,47
Lövö
N 6347004,04, E 432314,85
Svänö
N 6353160,44, E 438287,77
Häradsö-Hagen
N6352305, E 440439
Östra Rockne
N 6349876,76, E 437051,71
Railway crossing by Kittlakull
N 6349871,72, E 435485,47
Kävsjö Church
N 6352836,67, E 435013,26
Björnekullakärret
N 6342332,45, E 435684,01
Björnakullen
N 6342877,45, E 435792,12
Kvarnö
N 6348704,28, E 437051,71
Andersberg
N 6342312, E435691
Naturum visitor centre
Naturum have toilets and changing table which is accessible with a wheelchair. The exhibition at naturum have films to watch and information and tales to listen to. Binoculars that can be raised and lowered are fixed in the exhibition to view bird life in Lake Kävsjön from the naturum's window.
For non-wheelchair users, it is mandatory to take off your shoes at the clothes hangers, there are slippers to borrow if you don't want to go without. Visitors who have difficulty taking off and putting on their shoes are excused.
Guide dogs are most welcome to the naturum center, other animals may stay outside. In the lab room, there are lots of animal skeletons, plants, fungi, bird feathers and animal poo that visitors can smell and examine freely.
You are welcome to bring your own coffee into the naturum. There are tables and chairs in front of the fire to sit at.
A fireplace with firewood is located close the naturum. There is a bench table and two benches to use when cooking your lunch or dinner.
You can always ring and book a guided showing in naturum.
In naturum Store Mosse you will also find information about Swedish National Parks and nature reserves in the County of Jönköping.
The big bird watching tower
The trail to the twelve meter high birdwatching tower from the car park is approximatly 150 meters and are adapted for wheelchairs. It is possible to use the elevator to reach the first floor which gives a lovely view of Lake Kävsjön and the quagmire. The first floor has a glass-clad panoramic window with a small exhibition about Lake Kävsjön. There is also a audio player that plays different bird sounds. The higher floors can only be reached via stairs.
The Forest Troll trail
This trial is located about 100 meters from the main car park. It is a 500 meter loop where children of all ages follow a fairy tale and look for the missing troll. The trail is gravel and can be walked with a stroller/wheelchair. Naturum is about 50 meters from the start of the path. At the beginning of the trail there are also a fireplace with firewood storage. The surface around the fireplace is not adapted for wheelcharis, but it is flat and rather accessible. The story is read in a folder that is in a box at the start of the path. The folder is available in Swedish, easy Swedish, English and German.
Trail, Wibecksleden
Wibecksleden is a 600-metre-long trail that begins at the staffs car park and ends at the edge of the quagmire. There are benches and tables there. The entire trail is accessible for wheelchairs. There is a hand rail along one side along the whole distance.
Östra Rockne car park and Trail, Svartgölsleden
Östra Rockne car park is located along road 151, two kilometres from naturum, towards Värnamo. There is a compost toilet adapted for wheel chairs.
Trail Svartgölsleden goes from Östra Rockne to Lake Svartgölen. It is around 1,8 kilometre to the lake. The trail is wide and adapted for wheelchairs. The last 500 metres is a 1.2-metre-wide board walk across the raised bog to a platform with tables and benches next to the water. A very nice place for a picnic.
You will find a printed guide to the trail in a box at the beginning of the trail.
Kittlakull
Kittlakull is available as lodging only for people confined to wheelchairs. You book at naturum. The ground floor is completely adapted for wheelchairs. Kittlakull is situated about 1.5 kilometres from naturum. Kittlakull is mainly used as living quarters for students, trainees and researchers.
Svänö
At Svänö there is a wheelchair ramp to the compost toilet. The rest of the area is not accessible, but it is possible to get to the BBQ site with help. From there you have a beautiful view of the surroundings. There is also a BBQ site in the garden.
Lövö
At Lövö there also is a ramp to the compost closet and it is possible to get to the BBQ site in the garden.
Trail, Regnöleden
The Regnöleden trail begins at the Mexican village in the High Chaparral theme park. It is accessible only when High Chaparral is open. The trail is 400 metres long and adapted for wheelchairs. At the end there is an elevated platform with a ramp that affords an excellent view of the mire. There are benches and tables along the trail.
General accessibility
All trails are marked with orange colour. There are about 40 kilometres of trails, half of which are boardwalks. You are allowed to leave the trail and find your own routes, except around Lake Kävsjön, which is a bird sanctuary in the summer. Mind, it can be very wet in certain places.