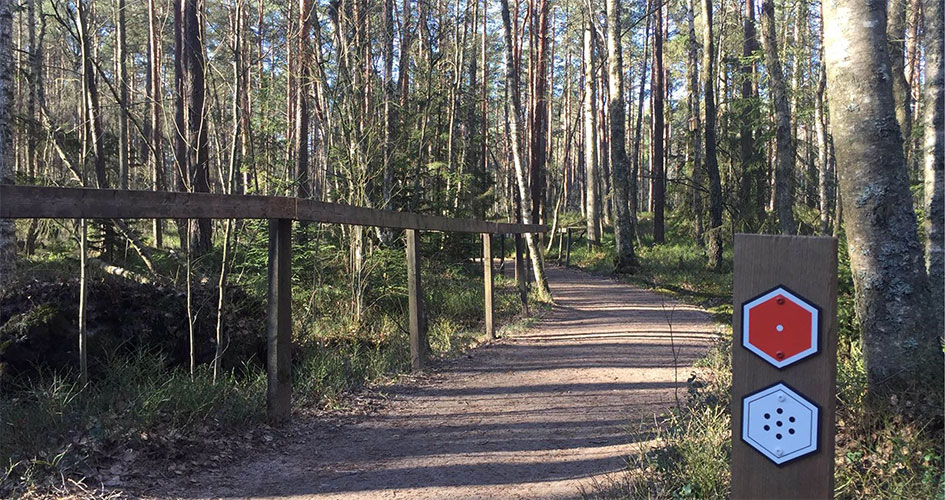 Accessibility
Parking
At the main entrance and car park by naturum, the entire area is accessible by wheelchairs and prams. At the car park there is an compost toilet adapted for wheelchairs.The whole area around the main entrance and naturum is accessible to wheelchairs.
Visitors whose mobility is impaired may park in the staff:s car park. Follow the gravel road by the open gate next to the flag poles.
Coordinates to parking places (SWEREF 99):
Naturum
N 6351304,46, E 435485,47
Lövö
N 6347004,04, E 432314,85
Svänö
N 6353160,44, E 438287,77
Häradsö-Hagen
N6352305, E 440439
Östra Rockne
N 6349876,76, E 437051,71
Railway crossing by Kittlakull
N 6349871,72, E 435485,47
Kävsjö Church
N 6352836,67, E 435013,26
Björnekullakärret
N 6342332,45, E 435684,01
Björnakullen
N 6342877,45, E 435792,12
Kvarnö
N 6348704,28, E 437051,71
Andersberg
N 6342312, E435691
Naturum visitor centre
Naturum is adjacent to the main entrance. There are signs from the car park. Admission is free. Open daily during summer, closed on Midsummer Eve and Midsummer Day. It is open on most Sundays year-round 11:00 – 17:00 and Monday, Tuesday 9:00 – 13:00. Closed on First Advent Sunday. Open during school breaks and other holidays.
You can always ring and book a guided showing in naturum.
In naturum Store Mosse you will also find information about Swedish National Parks and nature reserves in the County of Jönköping.
Bird watching tower
The trail to the birdwatching tower from the car park is adapted for wheelchairs. the distance is around 100 metres. There is a lift to the first floor.
Trail, Wibecksleden
Wibecksleden is a 600-metre-long trail that begins at the staffs car park and ends at the edge of the quagmire. There are benches and tables there. The entire trail is accessible for wheelchairs. There is a hand rail along one side along the whole distance.
Östra Rockne car park and Trail, Svartgölsleden
Östra Rockne car park is located along road 151, two kilometres from naturum, towards Värnamo. There is a compost toilet adapted for wheel chairs.
Trail Svartgölsleden goes from Östra Rockne to Lake Svartgölen. It is around 1,8 kilometre to the lake. The trail is wide and adapted for wheelchairs. The last 500 metres is a 1.2-metre-wide board walk across the raised bog to a platform with tables and benches next to the water. A very nice place for a picnic.
You will find a printed guide to the trail in a box at the beginning of the trail.
Kittlakull
Kittlakull is available as lodging only for people confined to wheelchairs. You book at naturum. The ground floor is completely adapted for wheelchairs. Kittlakull is situated about 1.5 kilometres from naturum. Kittlakull is mainly used as living quarters for students, trainees and researchers.
Svänö
At Svänö there is a wheelchair ramp to the compost toilet. The rest of the area is not accessible, but it is possible to get to the BBQ site with help. From there you have a beautiful view of the surroundings. There is also a BBQ site in the garden.
Lövö
At Lövö there also is a ramp to the compost closet and it is possible to get to the BBQ site in the garden.
Trail, Regnöleden
The Regnöleden trail begins at the Mexican village in the High Chaparral theme park. It is accessible only when High Chaparral is open. The trail is 400 metres long and adapted for wheelchairs. At the end there is an elevated platform with a ramp that affords an excellent view of the mire. There are benches and tables along the trail.
General accessibility
All trails are marked with orange colour. There are about 40 kilometres of trails, half of which are boardwalks. You are allowed to leave the trail and find your own routes, except around Lake Kävsjön, which is a bird sanctuary in the summer. Mind, it can be very wet in certain places.