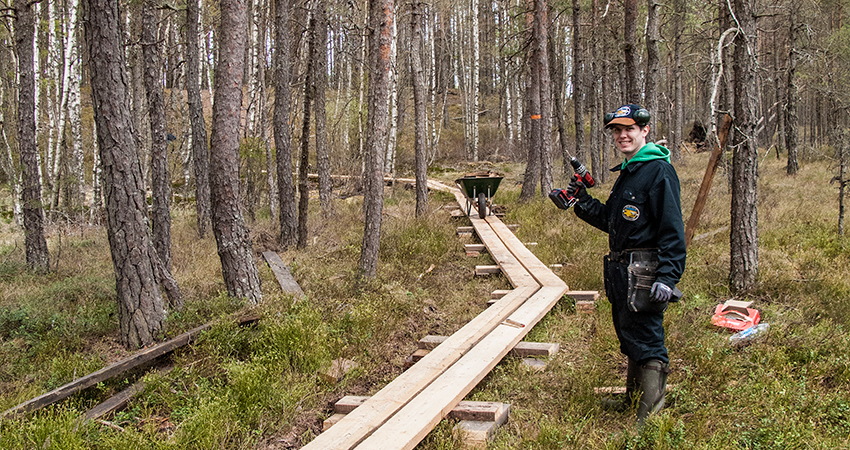 Foto: Länsstyrelsen Jönköping
Internship in the National Park
Students that wish to do practical experiences in the National Park are welcome to do so during the period April - September.
Available internships: ca. 2
Time period: We welcome interns mainly during summer, 1 april – 31 august for a maximum of 12 weeks (the internship can be shorter).
Last application date: December 31st prior to the internship.
Salary: We have no possiblity to give financial compensation but during your internship you have free accomodation.
Work assignments: Your main tasks will be to assist the National Park managers in their daily work. The tasks vary greatly and are largely located outdoors. Much of the work is weather dependent and not too often unforeseen events occour that require action. Examples of tasks include repairs of visitor facilities, trails, maintenance of various types of nature and nature restoartion.
Since you will be able to spend a lot of time on your own, we recommend the applicant to have your own project during the internship period (e.g. thesis work, inventory or similiar). It is important what you do is compatible with the restrictions and regulations which exist in the National Park.
Drivers license: B-level is a requirement.
Language: English is a requirement. If you also speak German it is an advantage.
Accomodation: You live upstairs in the old management house, Kittlakull, which is located in the National Park. The house has previously served as a hostel but is now used mainly for the National Parks staff, trainees and researchers.
In the house there are several toilets, showers, sauna and TV. On the ground floor there is a fully equipped kitchen which is used jointly by everyone living in the house. There should be order and tidiness in the house and you are responsible for the cleaning and order. Bring your own linens.
Means of transport: Transport within the park is usually done by car with the care takers, but there is a possibility to borrow a bicycle. For special needs it will be possible to borrow a car. If your own car is used in the service, mileage is paid.
Clothes: Jacket, rainwear and overalls can be borrowed here. You also get a cap and a t-shirt. It should be obvious that you are a part of the team when you work in the National Park.
Contact: